It's Sally Webkinz here with all your Thanksgiving news… and, most importantly, here to chat a bit about my favorite topic… FOOD!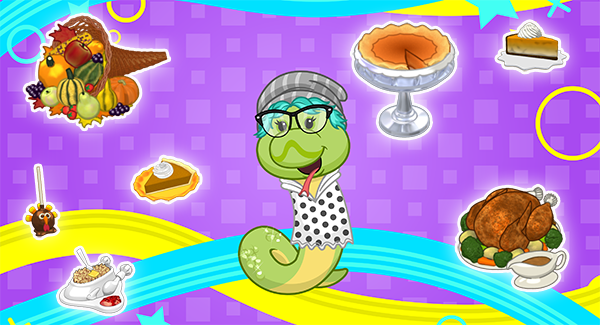 This year, Thanksgiving is falling on Thursday, November 23. Be sure to log in to Webkinz World on the 23rd to receive your Thanksgiving Gift — logging in from mobile works, too, if you need to sneak on during dinner! This November is a bit on the quiet side — so rest up, because a busy December is up ahead!
Now, Canadian Thanksgiving was in October, but the Newz team is always up for round 2 of tasty treats! I asked them about their favorite Thanksgiving foods and traditions. Transcript below!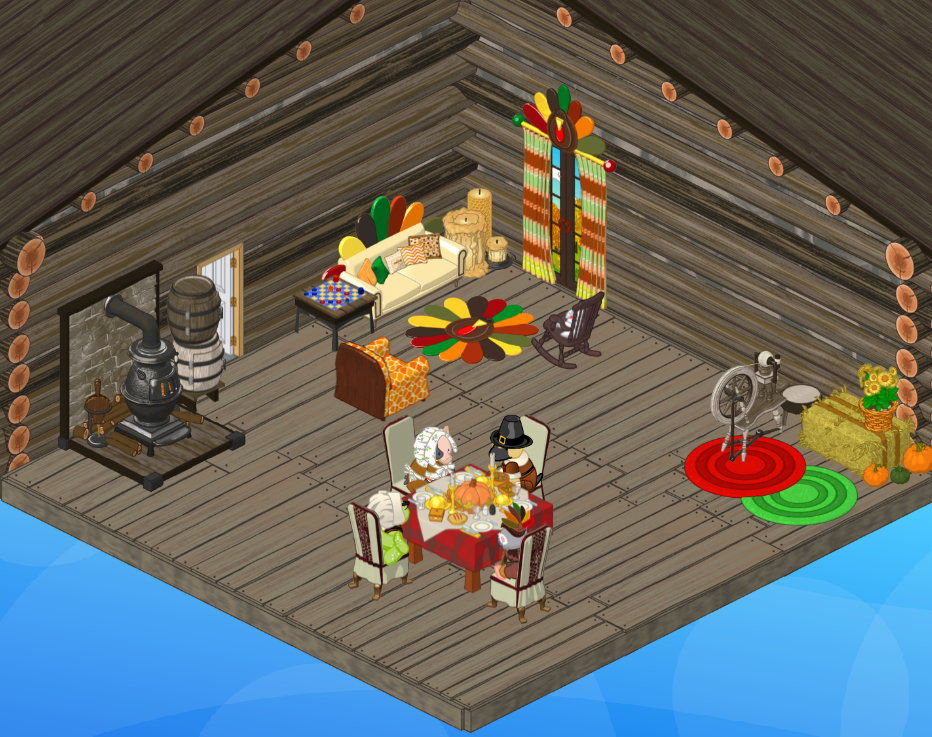 SALLY: So, I gotta ask… is there one food that you simply can't miss at Thanksgiving? A "It ain't Thanksgiving unless there's this food" kind of food?
MANDY: Brussels sprouts, for sure.
SALLY: I.. I was not expecting that, but sure. It's not my favorite vegetable, but I've learned to accept it. What about you, Stephen?
STEPHEN: TURKEY!
SALLY: Ha! Yeah, I guess that's pretty important. Though some people have things like cornish hens, or turkduckens. What about you, Michael?
MICHAEL: It's gotta be garlic mashed potatoes.
SALLY: Oh, that does sound good. For me, I have to have stuffing and cranberry sauce. I can eat just a plate of that and be happy. YUM! Speaking of YUM…. dessert! What's your favorite dessert for Thanksgiving, Mandy? Is it pie?
MANDY: Actually, I like pumpkin cheesecake.
SALLY: Good choice! I love a good cheesecake, myself, and pumpkin is very Thanksgivingy. What about you, Stephen?
STEPHEN: Pumpkin pie, of course.
SALLY: Can't go wrong with a traditional favorite. Sweet potato is pretty good, too! Hey, Michael — where does your sweet tooth lead you?
MICHAEL: We-ellll, I like blueberry pie best, to be honest.
SALLY: Ooh, nice one. Not as traditional, but still pie. Excellent. For me, I have to have a slice of apple pie… maybe with some cheddar on top… or with ice cream and whipped cream and… and… well, I think I'm getting a little distracted by all this food talk. Mandy, do you have any special traditions for Thanksgiving?
MANDY: We all like to play board games after dinner.
SALLY: That's great fun! Stephen, anything special for Thanksgiving?
STEPHEN: The most important part of Thanksgiving for me is having dinner with my family.
MICHAEL: Yeah, me, too!
SALLY: Family is very important. I don't get to see most of my family very often, but I'm happy to say that I've made some great friends who have become a second family to me! I guess my biggest Thanksgiving tradition is that I have… two Thanksgivings, sometimes three! I'll have one Thanksgiving with my in-laws, then another with my friends… and then sometimes, I'll celebrate American Thanksgiving in November. It's just too long to wait until December to have a big turkey dinner!
There you have it, folks. What about you? What food can't you do without at Thanksgiving? What's your favorite pie or dessert? Do you have any special Thanksgiving traditions? We'd love to hear about them!
Also, what would you like me to report on next? Tell us in the comments below!