Hi everyone, Steve Webkinz here. In today's special report, I'm going to take a look at the Webkinz Stadium!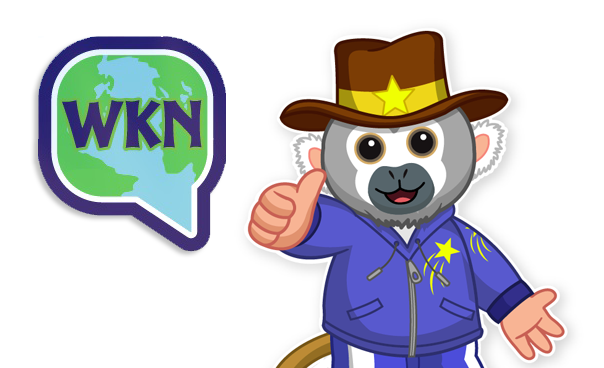 The Webkinz Stadium is where all of your pets' hard work at the Kinzville Academy can pay off. Raising their stats at the KVA allows them to enter into many of the scheduled competitions, and even helps to boost their chances of winning. There are 3 different competitions in the stadium:
Beauty Pageant
Cooking Competition
Running Race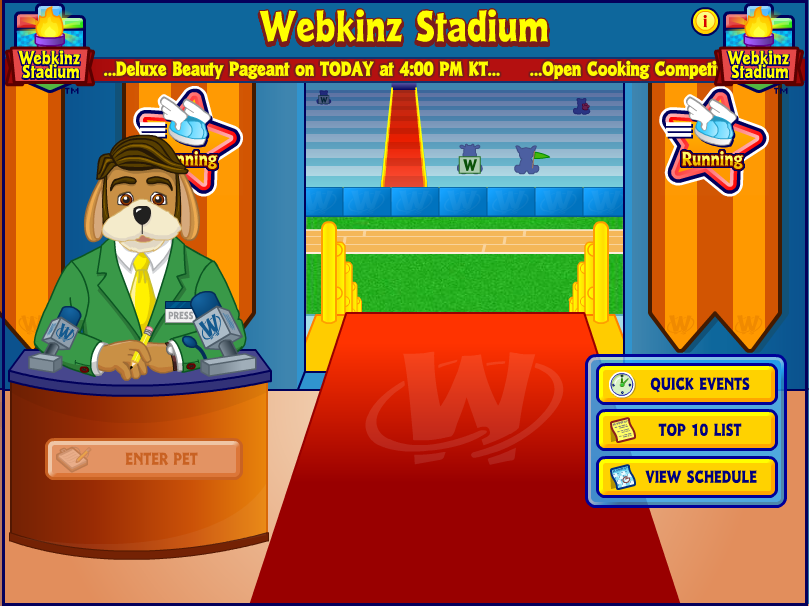 Each competition has 2 different ways to compete:
Quick Events
 Scheduled Events.
Quick Events are open to anyone. Just take any pet, pay the entrance fee, and wait for other pets to join. Once the number of participants fills up completely, the competition will begin. Only the top 3 finalists will win a KinzCash prize.
On the Quick Events sign up page you'll see the 3 different pet skills (earned at the Kinzville Academy) that will be a factor in determining the winners. The higher level your pet has in each one of those skills, the better chance they'll have at winning. You'll get a hint at your pet's chances based on the message that appears below their pins. For example, your pet being a "Fleet Footed Favorite" shows that they will have a great chance in the Running Competition!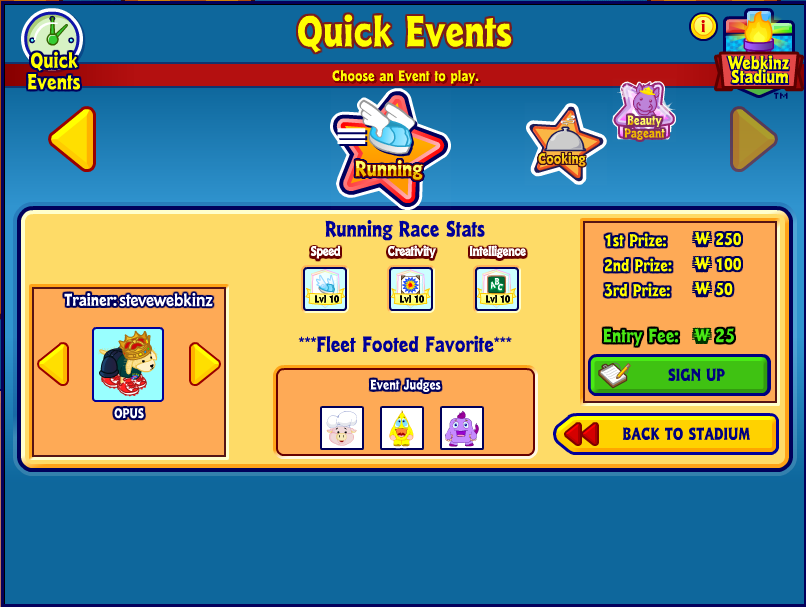 Scheduled Events award trophies or medals to the top 3 finalists and KinzCash to the other top 10. You can find out about upcoming Scheduled Events by clicking on the "View Schedule" button. You can also see Scheduled Events advertised on the main stadium page's ticker banner above Fred Rover's head. There are 4 different levels to Scheduled Events:
Open: No minimum or maximum pet stats required (any pet can enter). 25 KinzCash entry fee
Amateur: Minimum and maximum pet stats level requirements. 30 KinzCash entry fee
Pro: Minimum pet stat level requirements (higher than Amateur levels). 50 KinzCash entry fee
Deluxe: No minimum or maximum level requirements. Only open to Deluxe Members. No entry fee
When a Scheduled Event is ON, you'll be able to click on the SIGN UP button on Fred Rover's Desk. The sign up process works the same as Quick Events. However, while you wait for event to begin, your pet will be taken to a "Ready Room". In this room you can do various activities with your pet to help them prepare for the competition. Although they look like just a fun way to pass time, doing the activities can potentially have an impact on your pet's performance in the competition.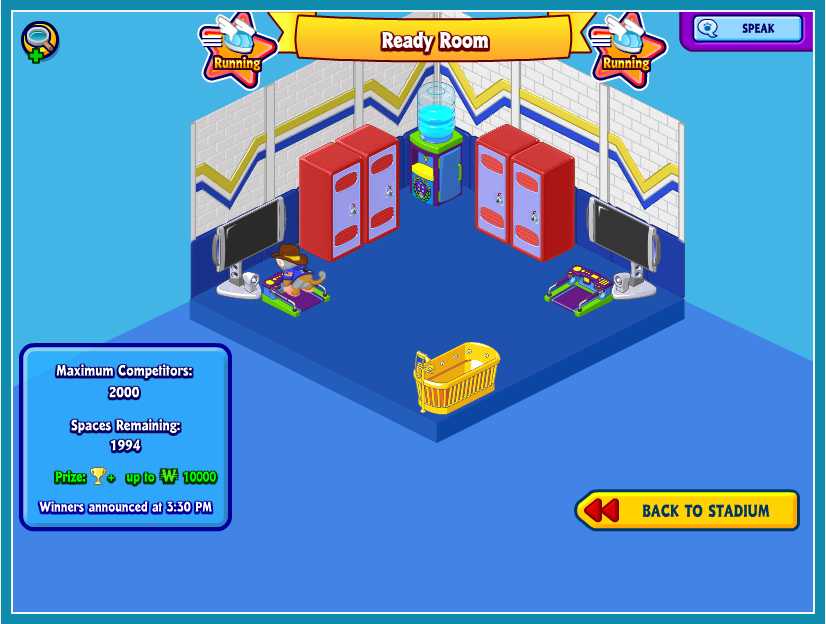 Once all of the spots are filled up, the competition will automatically begin. If you miss the competition, you can see it afterwards by clicking on the VIEW COMPETITION button on Fred Rover's Desk. At the end of the competition, you'll see the top 3 pets standing on the podium with their trophies, along with a full list of the standings.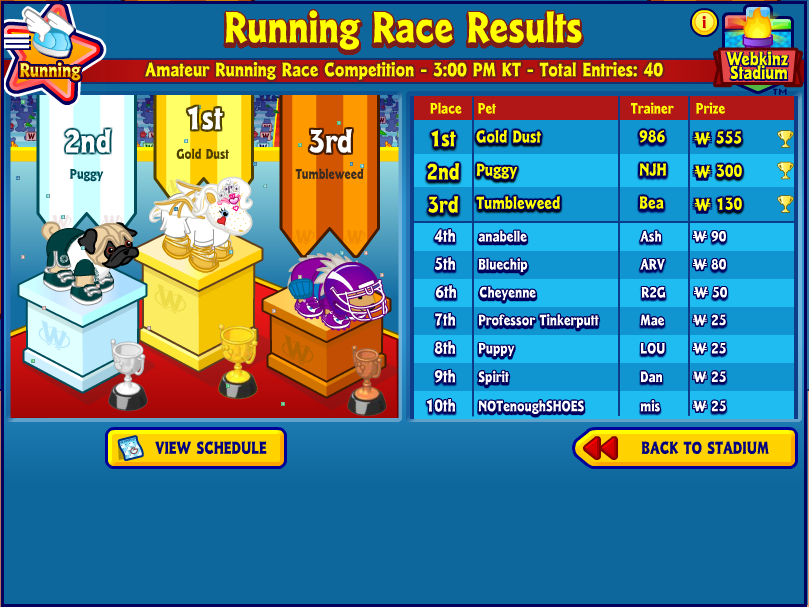 Keeping watching Webkinz Newz in the coming weeks for a new trophy showcase featuring all of the different trophies and medals you can win at the Webkinz Stadium!
Here are some more Webkinz Stadium tips:
Take your pets to the Kinzville Academy every day to help bring up their stats. Having higher stats in the right set of skills will definitely help their chances in the competitions!
Beauty Pageant and Cooking Competitions have a random selection of judges who have their own likes and dislikes for clothing or ingredients. If you can figure them out, you'll have a greater chance at success!
Running competitions don't have judges, but wearing the right things can help improve your pet's fleet feet!
If you miss the chance to view your pet in their competition, you'll get a KinzPost message from Fred Rover the next time you log in, telling you how they did!
Do YOU take your pet to the Webkinz Stadium? And what would you like me to report on next? Let me know in the comments below!