Welcome to the Curio Shop, hope you find what you're looking for!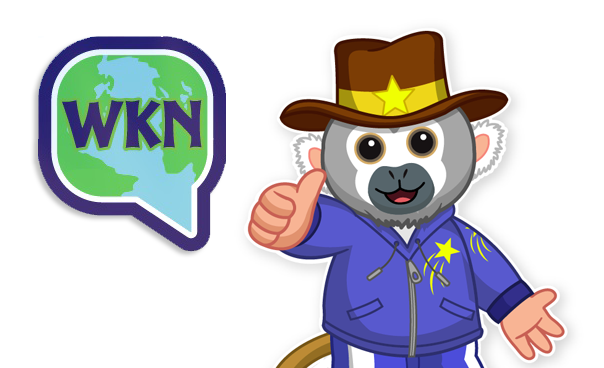 Steve Webkinz here. It's hard to imagine Webkinz World without Arte Fact, but when Webkinz.com launched in April of 2005, it originally didn't include the Curio Shop. However, just over a year later, the idea for a place where players could find some special items arrived in Kinzville.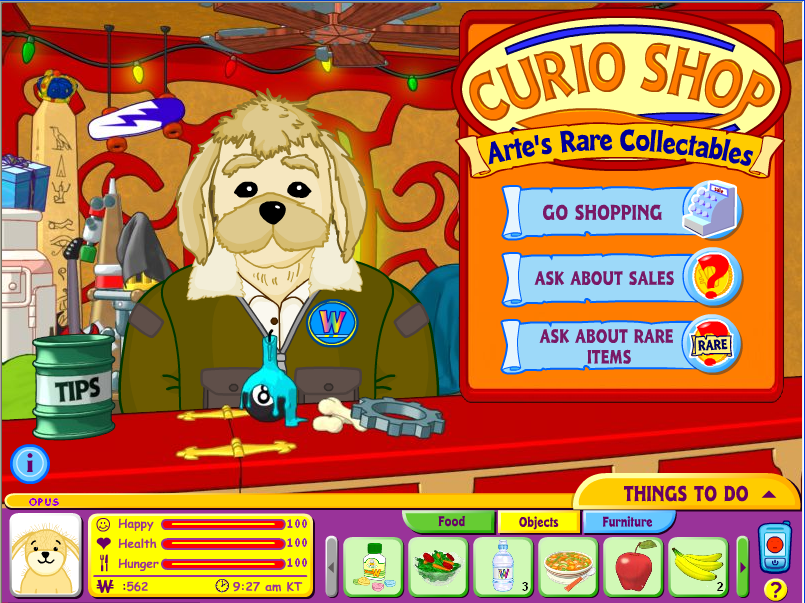 The original version of the Curio Shop launched in early 2006 with a lot fewer options than are available today. What hasn't changed is that Arte still updates his stock every hour, and not only is there a random chance that you'll find an item that can only be found in the Curio Shop, but if you come at the right time, you might even finds a rare item!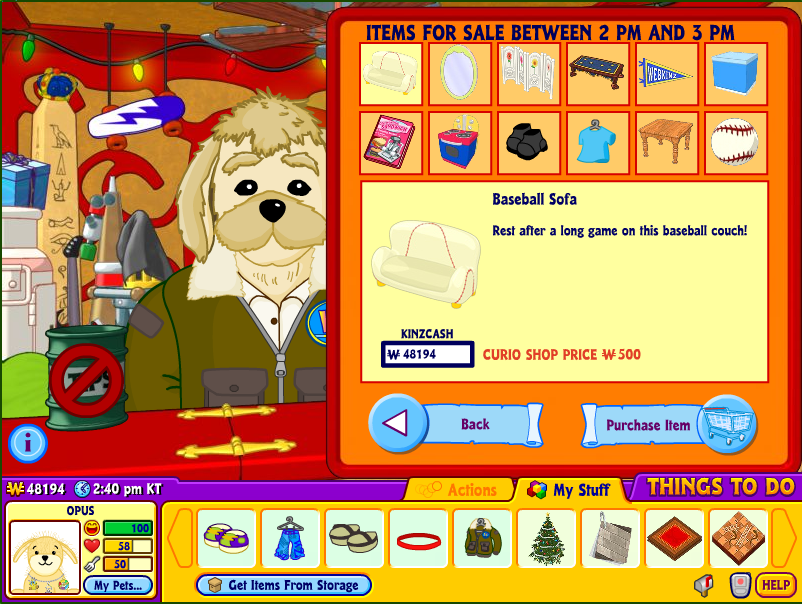 Arte's stock consists of a mixture of different items, including clothing, furniture and decorations from the KinzStyle Outlet and the WShop. While some of these items can be picked up for a discount, you'll have to be careful, because sometimes Arte's prices can be more expensive than in other shops. However, if you're looking for a Curio Shop-only item or a rare item, those prices always remain the same.
While Curio Shop-only items have more recently become easier to spot since adding the "Arte's Favorite" sticker, rare items are not. It takes a savvy shopper to know how to spot something rare.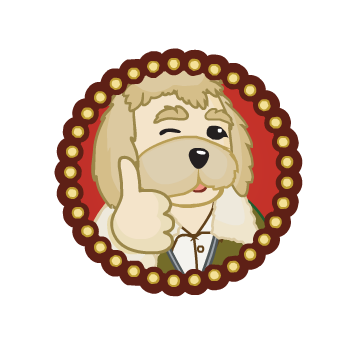 One way to make finding rare items easier is by building your friendship with Arte. The better friends you are with him, the more specific he'll get when you ask him about rare items. When you become one of his best customers, he'll even tell you exactly when a rare item will be in stock.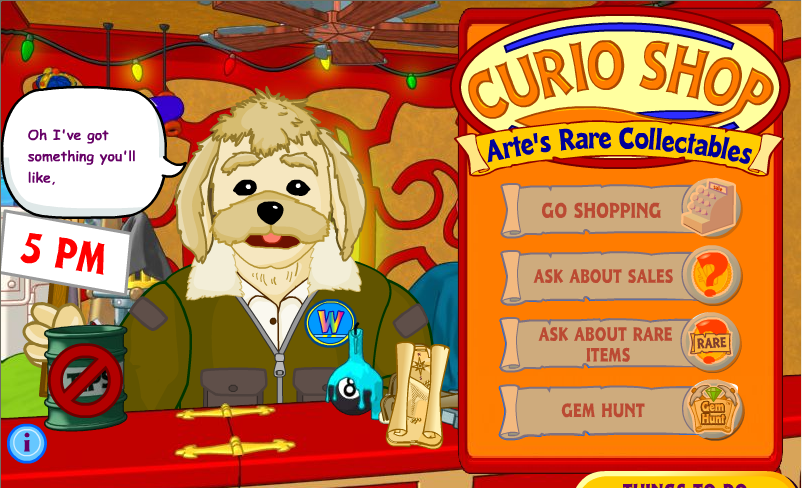 How do you become one of Arte's favorite customers? Here are three easy tips:
Visit the Curio Shop every day
Buy things from him as often as possible
Leaving a generous tip is always appreciated
Also, don't get too comfortable once you've become a good customer. If you stay away from the Curio Shop for too long, Arte may just start being less enthusiastic to see you when you finally return.
If you're looking for a quicker way to track down rare items and you have a Twitter account, you can also follow our official @webkinz handle, turn on your mobile notifications, and watch for our #RareItemAlert tweets.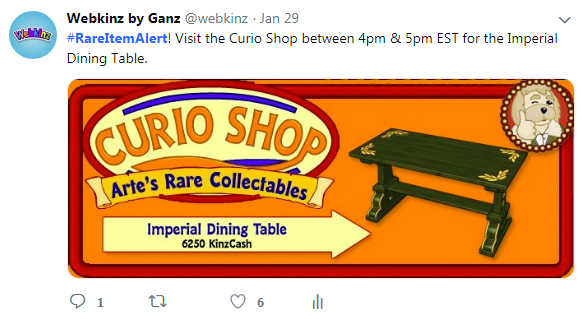 Later in 2006, the idea for a daily Gem Hunt was proposed. Because Doug the Dog had been featured as the gem-loving character in the W-Tales, the original concept was supposed to have Doug as the host in a separate Gem Hunt location in Kinzville. However, rather than add a whole new section, the Gem Hunt was instead added to the Curio Shop. "The Last Adventure" W-Tales story was later created to explain how the gem mines came to be under Arte's control and how that affected Arte's and Doug's friendship. Of course, Doug the Dog now appears randomly in the Collector's Room of the Clubhouse and will trade you any extra gems you've collected for some special prizes!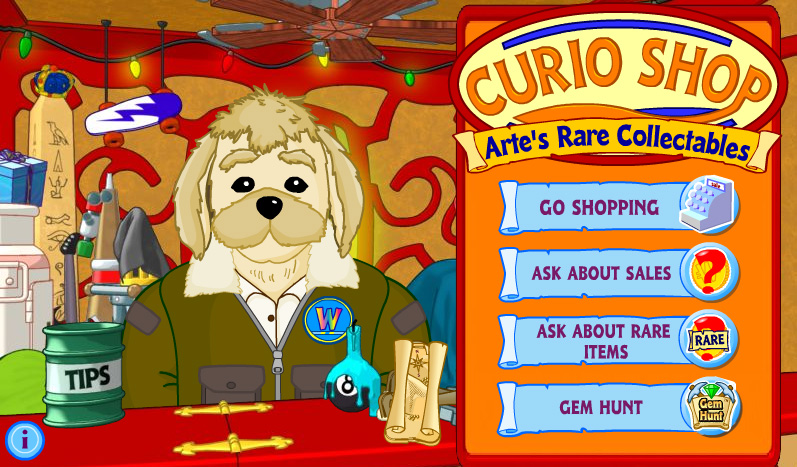 In 2009, an extra Deluxe section was added to the Curio Shop. Like the section for other players, the stock for Deluxe Members changes every hour, and there is an extra daily rare!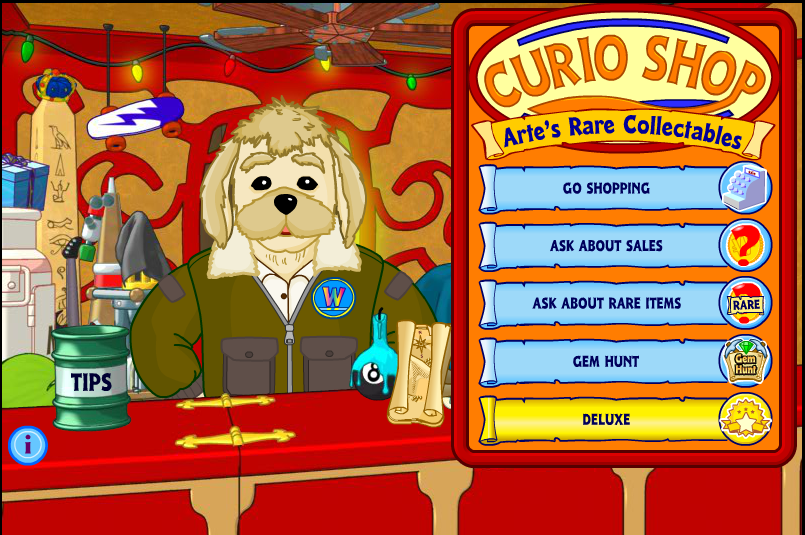 Want to see galleries for some of the rare and Curio Shop-only themes? Check out the links below:
Rare Themes
Curio Shop Themes
This has been Steve Webkinz reporting for Webkinz Newz! Are YOU one of Arte's favorite customers? And what would you like me to report on next? Let me know in the comments below.