Get ready to pamper your pets this fall, because players who manage to collect all fifty Acorns by September 30, will win furniture pieces that can be used to build a spa for your pets!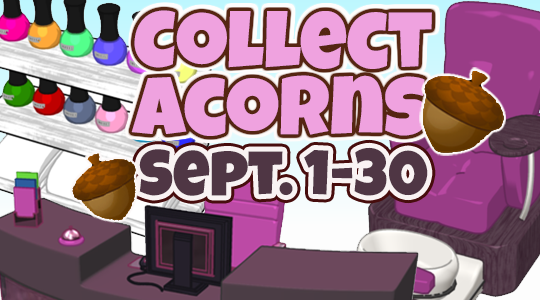 Here's how to play: Open the THINGS TO DO menu and click on the link to the Kinzville Map. Then, click on the Acorn icon to open your collection.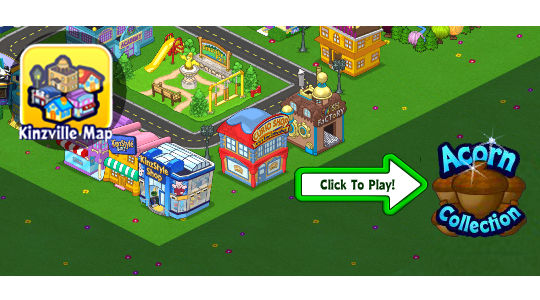 You'll get one free Acorn a day by clicking on the collection icon (Deluxe Members will get two free Acorns a day).
You can get up to five more Acorns throughout the day by asking your friends (by clicking the ASK FRIENDS button), or by finding and clicking on the floating Acorn on Webkinz Newz (make sure you collect your free one first before trying to find one on Webkinz Newz).
Here's a closer look at this year's prizes: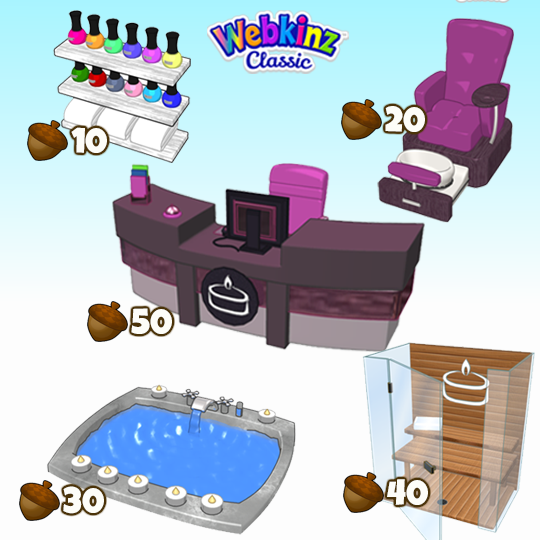 You can complete collection events more than once, so play every day to collect as many Acorns as you can! Plus, you'll be able to earn even more Kinzville Spa themed prizes during this year's Fall Fest, which runs from September 19 – 30, on Webkinz Classic!
How many Acorns have you collect so far? Let us know in the comment section below…