Hey, gang, it's the Rooster here to give you some exclusive behind-the-scenes details about the filming of my Pet of the Month music video, "It's a Beautiful Day."
If you've seen it (and I hope you have, AND answered the challenge questions to win a special prize!) you know that "It's a Beautiful Day" is all about my wife's and my attempts to wake our little guy. Now I think our baby chick did a heck of a job in the end – how cute is that video? But I have to tell you – capturing those moments was not as easy as it looked. He may be adorable but he can sure be a handful at times and getting him to keep still was no easy feat. Every time he had to lie with his eyes closed, he would start giggling and we would have to stop the camera! It was terrible because once he started giggling, we would all start to laugh! It took us ages to get one take.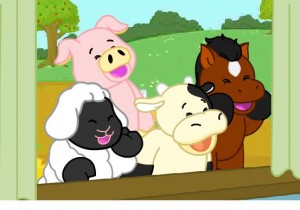 My friends from the barnyard were great – total pros. I'll tell you – I would work with those guys any day of the week. Of course, we all go way back, so that could be why we're so in sync. I remember back to the day I first hatched and the four of them first came scampering into the barnyard to meet me.
Finally, when we managed to get our chick to settle down, it was all going smoothly until I pulled out the bubble wrap and started popping it. I don't know what it is about bubble wrap – but something about it just seemed so ridiculous that I lost it. I started laughing and laughing and couldn't stop! It was so embarrassing – everyone just stood there staring at me, and my baby chick is looking at me like I'd lost my marbles, but I can't explain it. For some reason, at that moment, bubble wrap just seemed like the funniest thing in the world to me.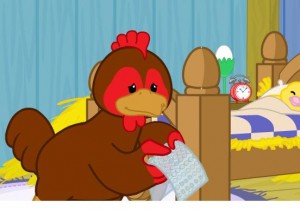 Well, if you haven't had a chance to see the video yet, I hope you'll check it out. And keep in mind all the hard work that went into filming it.
Click here to watch the video. And remember – answer the three questions at the end to win a special prize!