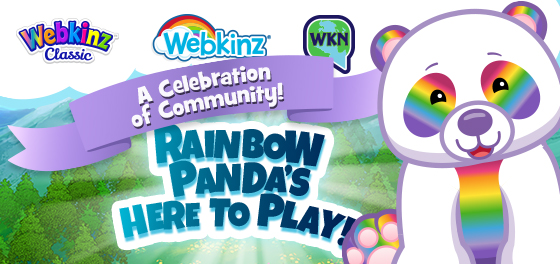 Holly Hopper, our new Community Coordinator has gathered a team to help put together a wonderful celebration for all of the Webkinz Communities!
To represent Webkinz Classic, Holly has invited the new Rainbow Panda. The Panda makes a wonderful symbol of unity between the two games – the Panda's rainbow cousins, the Rainbow Unicorn and the Rainbow Retriever were introduced to Webkinz Next earlier this year! Two of our new babies, these rainbow pets bring the opportunity to purchase the rare and ultra-rare plush.
The Rainbow Panda is so excited to join the team planning this year's Celebration of Community! Watch for it to bring you fun activities along with Holly Hopper this month!