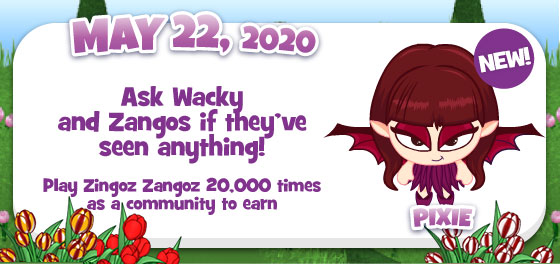 You did it! Here is your free community code for Orange Tulip Wall Sticker!
W24M-JP39-8RLW-LBNJ*
Above you can find your next task. Remember -  you don't have to do it on your own. You will be working with the whole Webkinz community to play Jazz Monsters. We track ALL plays and count the total toward the goal.
Come back here to Webkinz Newz after 9:30 am tomorrow to see if you reached the goal. If you did, you'll get a code for your prize!
Good luck!
Missed a previous day's code? Find it here:
Bright Red Tulips: W24U-RGZZ-GE7Y-75N4
Purple Tulip Wall Sticker: W24Z-H2SN-E37W-QLWJ
Pink Tulip Wall Sticker: W24C-BVNY-MJPX-FNME
*To redeem your prize, log into Webkinz World and enter this code at the Code Shop, which can be accessed through the 'Things To Do' menu. Code awards one item per Webkinz account and expires at midnight EST September 30, 2020.