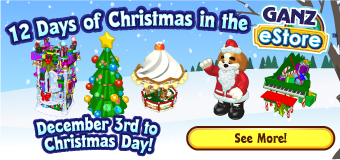 Have you been celebrating Christmas with the Ganz eStore?!
From December 3rd, 2013 to December 14th, 2013 the Ganz eStore is releasing one new item every day! Use your eStore points to get these festive items!
Afraid you missed out already?! Don't worry! These twelve items are available all the way until January 12th 2014! That gives you plenty of time to get them all!
Head over to the Ganz eStore to take a look at what's already out and stay tuned to see the rest of these adorable items!