We gave you a sneak peek at this pet in an earlier Webkinz Newz story, and now we'd like to present to you our newest Webkinz plush pet, the Pebble Horse!
Check out this unboxing video, revealing the Pebble Horse in action!
One look at the Webkinz Pebble Horse and they're sure to gallop away with your heart! Such an impressive example of equine excellence deserves their own hang out, so make sure they park their hooves each evening inside their Stone Stable! Once they've built up a hunger, the only thing that can knock it down fast is a stack of their favorite snack: some Celery Slabs!
Here's a look at the Pebble Horse plush, along with all of the items you'll get when adopting one: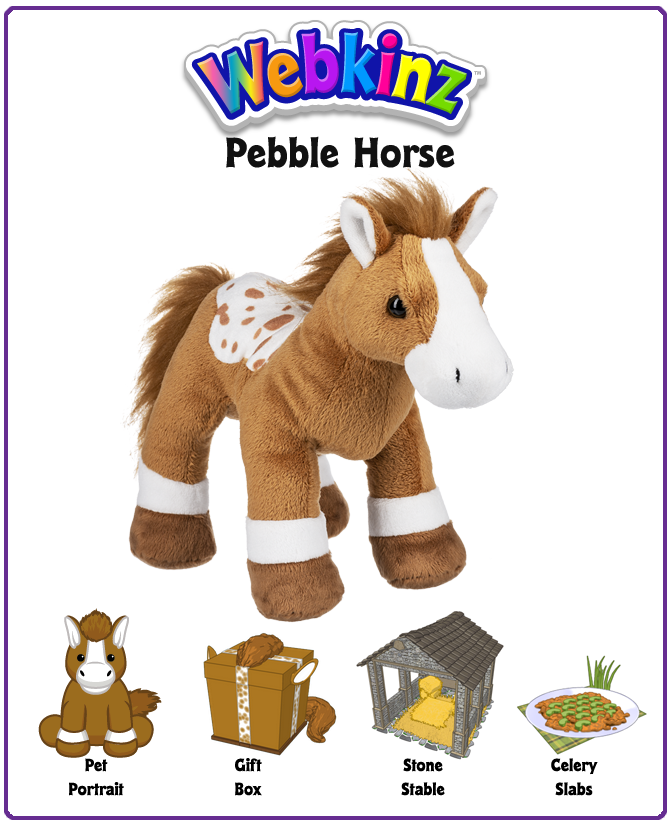 Want a plush Pebble Horse all your own? This and other Webkinz plush pets are now available for order directly from the Ganz eStore!

NAME ME CONTEST
What would you name this superb steed?
Enter our Contest here! Suggestions in the comments will not be entered into the contest.
Note: Contest closes at 11:59 PM EST on Sunday, July 8th, 2018.