First of all – thank you again to everyone who entered our 2017 Pet Design Contest. We can't say enough how difficult it has been to choose a winner. There were almost 900 amazing entries which we narrowed down to a list of ten wonderful finalists. We read your comments and we discussed it among our team.
We decided to go with a unique pet based on a real animal that we think will make a great addition to the Webkinz family. The adorable Axolotl by Taydarsauce is our winning design and will be available in the eStore starting on Webkinz Day 2017.
pet design contest pet design contest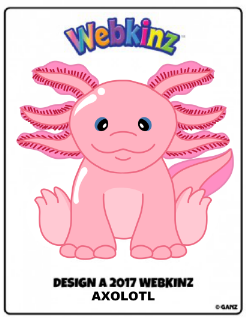 Congratulations to Taydarsauce who will receive a Pet Design Trophy, 1 Year of Deluxe, and a code for the Axolotl when it becomes available.
And congratulations to our 9 runners up and 1 honorable mention who will each receive 1 month of Deluxe. Look for a message at the email associated with your GanzWorld account by end of day tomorrow.
Please join us in congratulating Taydarsauce! And do you have suggestions for a PSI and PSF for the Axolotl? Taydarsauce made some suggestions that we will take into consideration but we would love to hear your ideas too. Let us know in the comments below.