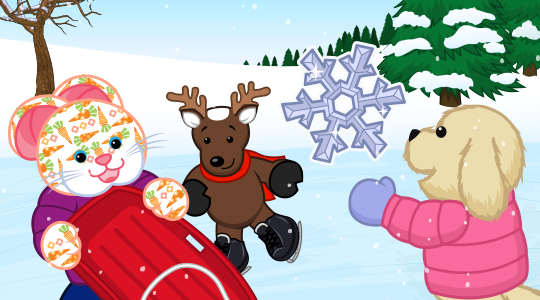 From January 1 – 14, look for falling snowflakes on your Webkinz Classic account and click on them to win prizes! We have released so many snowflake prizes over the years, so we thought that it would be fun to give players the opportunity to collect some they might have missed!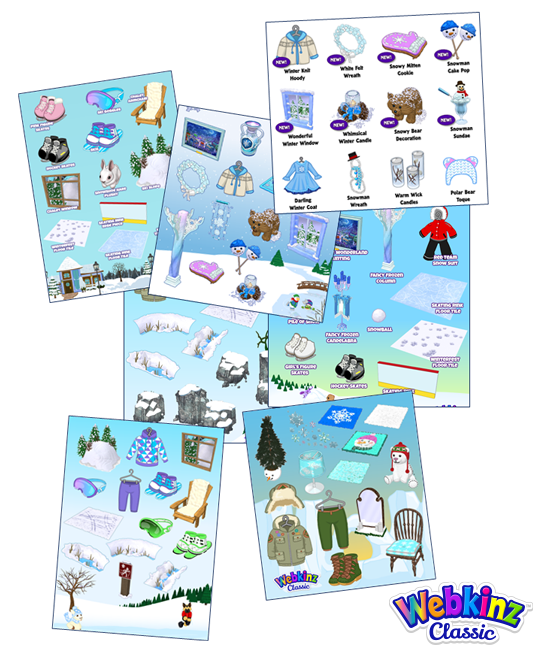 There is a giant prize pool of over 100 items from past Winterfests that you can win by clicking on falling snowflakes during this event (limited to 4 a day for free players, 5 for full and 6 for Deluxe players). Scroll down to the bottom of this article to see a full list of items!
Every time you click on a snowflake during Winterfest, you are guaranteed to win a prize, so play every day for the chance to collect as many as you can!
Looking for some brand new Winterfest prizes to add to your collection? Look for 2022 Winterfest Cookies at the W-Shop. You'll find them in the NEW & PROMOS section of the shop.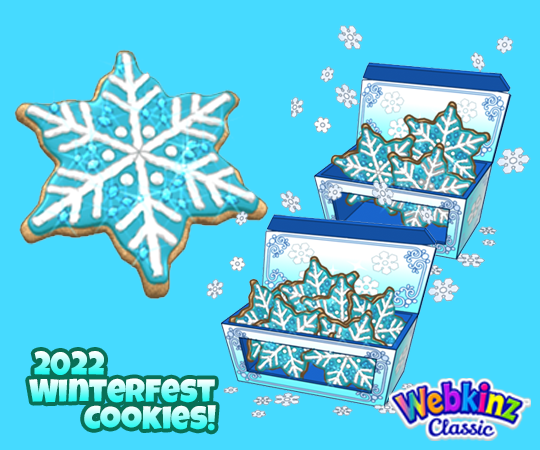 Winterfest Cookies come in packs of 3 & 6, and are only available for eStore Points. If you drag a pack of Winterfest Cookies into your pet's room, your cookies will be added to your Dock. Every time you feed your pet a cookie, you'll win a prize!
You'll love this year's cookie prizes, including the grand prize: A Crafting Station!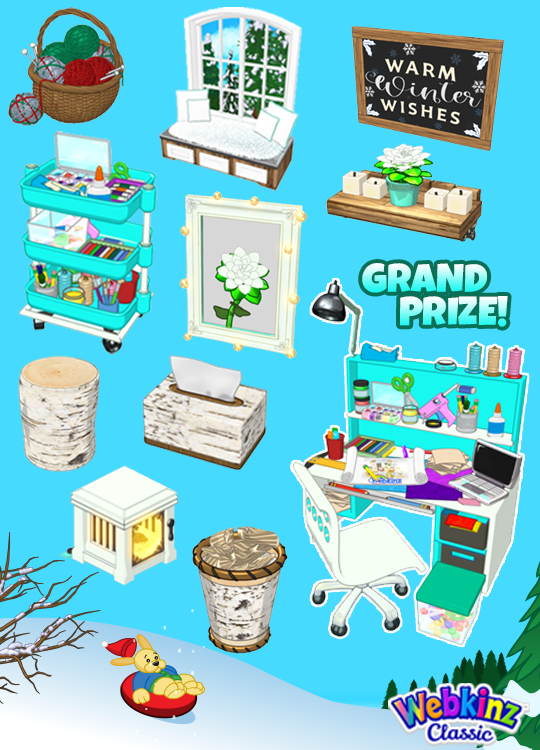 There is a special challenge you can play during Winterfest, and you have the whole month to complete it! Help your pets stay warm this winter by playing this two part challenge… but don't leave it to the last minute, because some tasks take time to complete.
Here's a look at what you have to do to complete each part of the 2022 Winterfest Challenge, and what you win for completing them:
PART 1/2
Earn 40 KinzCash playing Pizza Palace
Complete 2 Agility Classes at the Kinzville Academy
Feed your pet 3 cups of Cozy Cinnamon Tea
Click on floating cups of Cozy Cinnamon Tea throughout January (limited to 1 a day), to collect them. You'll need to feed them to your pet to complete each step of this challenge.
Players who manage to complete part 1 of the 2022 Winterfest Challenge will win Chalet Wallpaper & Flooring and a Warn & Cozy Chair: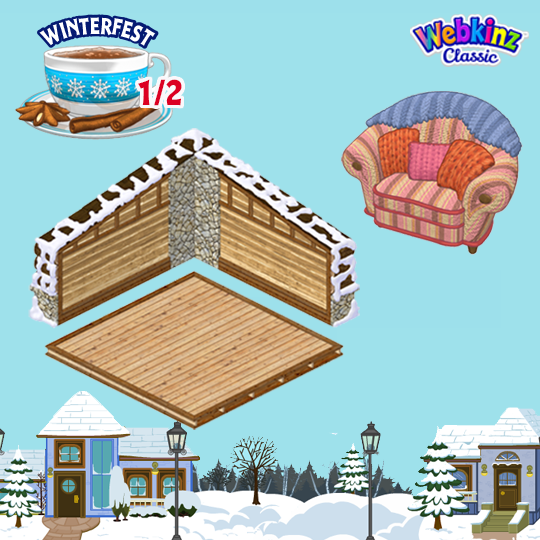 I hope your pets like tea, because you'll need to collect a few more cups to complete part 2:
PART 2/2
Feed your pet 2 more cups of Cozy Cinnamon Tea
Curl up by the fire… Earn 60 KinzCash playing Tile Towers
Spin the Wheel of WOW 2 times
Players who manage to complete part 2 of the 2022 Winterfest Challenge will win Snowy Wallpaper and a Snow Fort: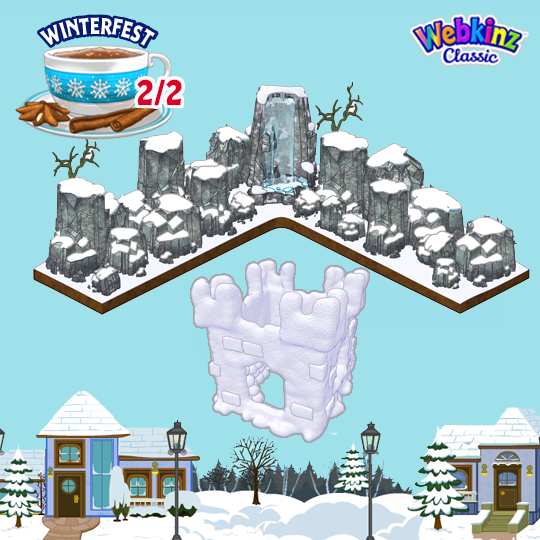 Remember, you only have until the end of the month to complete this year's Winterfest Challenge!
Here's a look at the full list of past Winterfest prizes you can win by clicking of falling snowflakes during Winterfest 2022 on Webkinz Classic:
Hot Chocolate Frozen Mug
Peppermint Snowflake
Polar Plunge Poster
Snowflake Sweater
Snowy Blue Toque
Eggnog
Framed Winter Scene
Fuzzy Winter Slippers
Googles Ice Sculpture
Potted Icicle Tree
Snow Bear Sugar Cookie
Snow Cone
Winterfest Parka
Roasted Chestnuts
Snowflake Rug
Wool Scarf Jacket
Gingersnap Snowflake Cookie
Magic W Toque
Potted Ice Flower
Icicle Wind Chime
Snowman Cookie
Winterfest Hoodie
Winterfest Window
Icicle Ice Pop
Snow Angel Cookie
Snow Globe Hat
Snowy Face Stickers
Winterfest Pajama Pants
Hot Eggnog Coca
Ice Skate Wreath
Light-Up Snowman
Rockin' Reindeer Sweater
Snowy Spice Cake
Sweet and Salty Popcorn String
Cozy Cinnamon Tea
Darling Winter Coat
Maple Syrup Taffy
Melting Snowman Cookie
Polar Bear Toque
Ski Trick Toque
Snowball Coconut Truffles
Snowflake Slippers
Snowman Wreath
Warm Wick Candles
Winterfest Donut
Snowman Cake Pop
Snowman Sundae
Snowy Bear Decoration
Snowy Mitten Cookie
Whimsical Winter Candle
White Felt Wreath
Winter Knit Hoody
Wonderful Winter Window
Fancy Frozen Candelabra
Fancy Frozen Column
Fancy Frozen Vase
Snowflake Wall Art
Winter Wonderland Painting
Winterfest Welcome Rug
Yeti Plushy
Girl's Figure Skates
Hockey Skates
Pile of Snowballs
Red Team Snow Suit
Skating Rink Edge Piece
Skating Rink Floor Tile
Snow Covered Cedar
Snowball
Winterfest Floor Tile
Chalet Armchair
Chalet Window
Pink Figure Skates
Ski Goggles
Ski Slope
Skis
Snowshoe Hare Plushy
Winter Trail Sign
Cross Country Floor Tile
Frozen Creek Curved Tile
Frozen Creek End Tile
Frozen Creek Tile
Neon Green Ski Golles
Neon Green Skis
Ski Goggles
Ski Jacket
Ski Pants )
Adventure Scouts Boots
Adventure Scouts Cap
Adventure Scouts Parka
Adventure Scouts Pet Pack
Adventure Scouts Snow Pants
Adventure Trail Mix
Snowy Bluff
Snowy Perch
Snowy Rest Stop
Winter Snowflake Carpet Tile
Winter Snowman Carpet Tile
Winter Teal Carpet Tile
Winter White Carpet Tile
Winterfest Dining Chair
Winterfest Lamp
Winterfest Mirror Winterfest Plushy
Winterfest Plushy
Winterfest Potted Pine
Winterfest Wall Art
What is your favorite prize that you've won so far? Let us know in the comment section below…