It's me, Fiona, back for another round of fan mail! As always, for my past answers, click here! If you miss me, you can always head to KinzPost and send a letter or a package, and I'll deliver it for you! Don't forget, you can add me as a friend by going to KinzChat and adding Fiona Feathers (include the space!).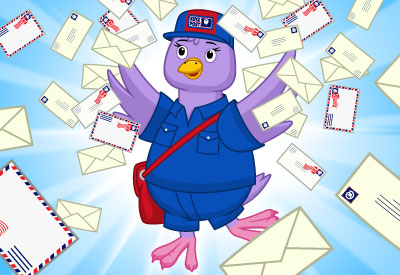 Hello Fiona. I for got to ask you on my other question on here, will we be able to put our Silly Scoops in our webkinz rooms for decoration ? I love the new Silly Scoops. I order 6 of them. Nice job Ganz. Thank You. – AUNT09
Hi, AUNT09! Those Silly Scoops sure are cute, aren't they? While I'd love to see those little guys running around Webkinz World, Silly Scoops are a completely different toy line by Ganz — they aren't part of Webkinz World at all and don't come with Feature Codes. We just loved them so much that we wanted to share them with you.
Dear Fiona, are the rare ancient civilizations estore items tradable or sellable? – kittymade10
Thanks for your question, kittymade10! The Ancient Civilizations theme items from Ganz eStore are not sendable/tradeable/sellable, no. They sometimes show up in Mystery Bags and Stockings, though. Good luck with your collection!
Dear Fiona, could you please ask your tech people why sometimes in the middle of a game, the message comes up "We're sorry, we can't log into Webkinz right now"? Are there too many people on the server, or is time limited to play games? Thanks! – NanaZaza
Goodness, that can be frustrating, NanaZaza! Most of the time, that message means that your internet connection was interrupted in some way — it may be that it got just a bit too slow, and the messages to and from Webkinz World timed out. This tends to happen more often if you're on a wifi connection. There is no limit to how much time you can spend in Webkinz World, but certain areas, like the Clubhouse and Kinzville Park, can get slower when more people are connected. If you get logged out at the same point in the game each time, please send a message to webkinzsupport@ganz.com so they can investigate.
Want to write to Webkinz?
Send your letters to:
Ganz #04360 Industrial Parkway
Cheektowaga, NY
14227-9903
Have more questions? Ask them below and you might be featured in the next edition of Fan Mail with Fiona!