This yummy recipe is a great vegetarian companion to the Fajitas recipe we featured earlier, and was submitted by eme with Siri. Thanks for your submission, eme! Hope you enjoy your Crafty Critterz Trophy!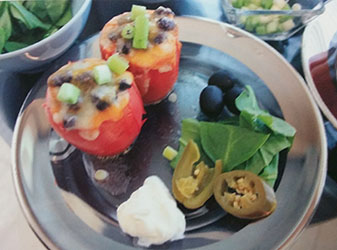 What you need:
Grown-up assistant
6-8 fresh Roma tomatoes
1 can of 15oz black beans, drained ("seasoned" variety, if available)
3/4 cup of shredded cheddar-jack cheese
Olive oil
Salt and pepper
Oven-safe baking dish
Optional toppings: fresh spinach, jalapenos, olives, sour cream, bacon crumbles, avocado slices, scallions
What you do:
Get a grown-up's permission and help before starting.
Pre-heat oven to 375 degrees
Slice the very tops and bottoms off your washed and dried fresh Roma tomatoes (to make the bottom flat so it can stand upright), core out the large end "top" off your tomatoes and 3/4 of the way down to make room for the beans.
Place your tomatoes small end down in your baking dish, drizzle with olive oil, sprinkle with salt and pepper. Using a small spoon, fill and pack with black beans until level with the tomato top rims, then top with mounds of shredded cheese.
Place the uncovered baking dish with your stuffed tomatoes in the oven center rack and bake for 10-14 minutes. The cheese will be bubbly and start to turn a golden brown.
When done, use a large spoon to place tomatoes onto a serving dish and offer various toppings on the side.

I'm hungry just thinking about this recipe!
Do you have a great idea for a craft, recipe or party game? We'd love to hear them!