UPDATE: This event has started and will be extended to October 22nd.
This year's Jack-O-Lantern floaty-clicky event is extra special! From October 15th – 21st, look for the floating Jack-O-Lantern in Webkinz World and click on it to win a Halloween costume piece (limited to 5 costume pieces a day, 8 for Deluxe players). There are a total of 80 pieces to collect… that's right, 80! We have created a huge prize pool of previously released costumes that you now have the chance to collect, in case you may have missed some in the past.
Here's a closer look at 15 of the costumes you'll be able to collect, but scroll down to the end of this article to see a full list of costumes that you can win by clicking on the floating Jack-O-Lantern: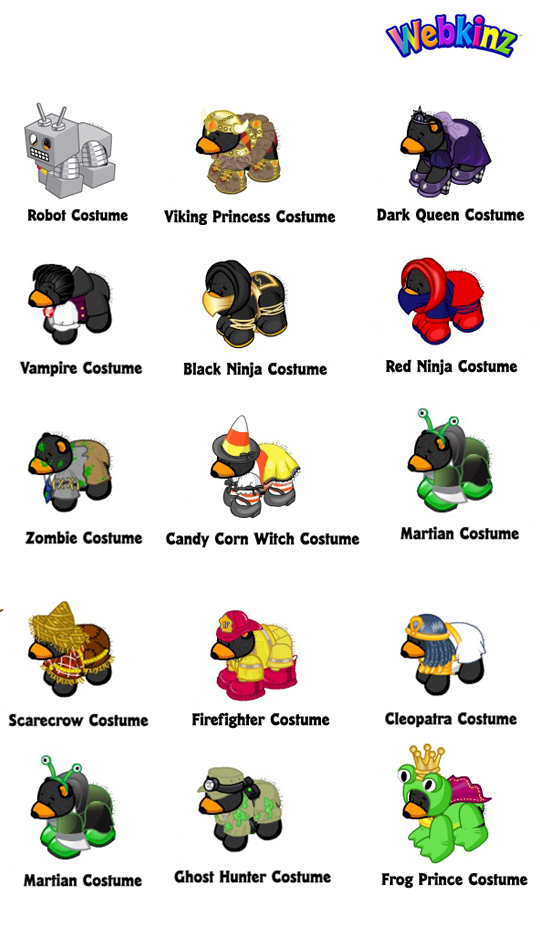 This floaty-clicky Jack-O-Lantern event will be taking place from October 15th – 21st in Webkinz World (on www.webkinz.com AND on the Webkinz mobile app). Here's a full list of costumes you'll be able to collect:
Black Ninja Costume
Red Ninja Costume
Scarecrow Costume
Vampire Costume
Candy Corn Witch Costume
x-Ray Costume
Zombie Costume
Angel Costume
Cleopatra Costume
Egyptian Mummy Costume
Goblin Costume
Ghost Hunter Costume
Ladybug Costume
Martian Costume
Frog Prince Costume
Robot Costume
Viking Princess Costume
Dark Queen Costume
Firefighter Costume
Garden Gnome Costume
Aztec Queen Costume
Blue Football Costume
Red Football Costume
Dragon Costume
Haunted Hotel Server Costume
Haunted Hotel Staff Costume
Knight's Costume
Pink Cowgirl Costume
And remember… don't forget to pick up this year's costumes at the KinzStyle Outlet!
What costume would you like to win the most? Let us know by leaving a comment below…