Congratulations Stephanie! Mandy loved your room and you have won a Room Design Trophy!
Here's what she had to say about your room:
"I am a sucker for a creative use of space and I love the way Stephanie has used a blue floor with grassy floor tiles placed on top to create the illusion of a lakeside campground! There are lots of fantastic camping touches, from the Camping Van with the surfboard on the back, to the picnic table, benches, baskets and blanket. Practicality is key when camping so coolers and a first aid kit are essential. And of course the starry wallpaper, campfire and Starlight Treehouse Canopy Beds lend the whole scene a dreamy feel. I'd love to camp out in this beautiful site!"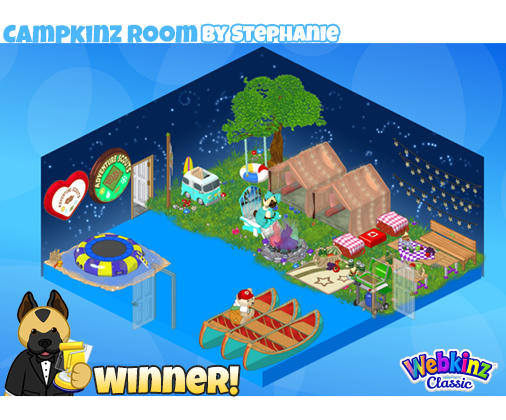 Stephanie, please check your inbox for an email that will explain how to get your trophy!