Congratulations Valiant Orangefriend 2! Mandy loved your room and you have won a Room Design Trophy!
Here's what she had to say about your room:
"Wow! I really had to think hard to choose my favorite from all these amazing designs but in the end it was the simplicity and elegance of Wedding Rehearsal that stole my heart.
Valient Orangefriend2 has very cleverly used repetition to make an impact with a few key pieces that give the space its focal point.
The row of tents down the lefthand side of the space holds the promise of a wonderful reception dinner after the ceremony. The twinkling lights from the tents are mirrored in the grouping of trees on the right, and all those pretty fairy lights create such a romantic atmosphere.
I love the way Valient Orangefriend2 has positioned the flowers and lights on either side of the pathway, offering a stunning entrance for the bride.
And of course, that pretty path leads to the altar where the main event will be taking place in the Spaniel Gazebo, flanked by two elegant fountains.  What a wonderful wedding venue Valient Orangefriend2 has created!
Congrats to the happy couple!"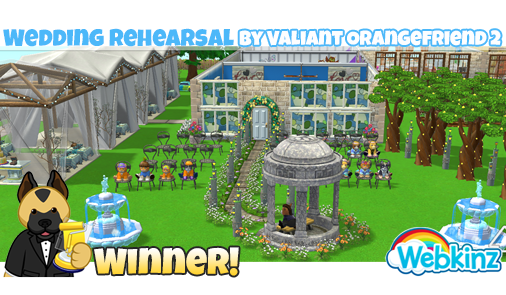 Valiant Orangefriend 2, please check your inbox for an email that will explain how to get your trophy!