Congratulations wildpony6! Mandy loved your room and you have won a Room Design Trophy!
Here's what she had to say about your room:
"I was just thinking how impossible it was going to be to choose my favorite room from all of these amazing designs when I came across this one by wildpony6. Gary, Gary, Gary – what have you done??? This is fantastic! It's already a great little classroom with the Academy Wallpaper and school desks. But it's the placement of the floor tiles that really take this room to the next level. The green ooze combined with the pawprint floor tile is ingenious (has Gary's experiment gone so far awry that the floor has melted and pets' shoes are sinking into it?), but the added touch of the homework tile and the stray baseball lying on the floor really sell the idea that something has gone terribly wrong. Thankfully, it looks like the science teacher is familiar with Gary's mishaps and was well-prepared. They made sure to keep a firefighter's hat handy in the corner, as well as some caution tape on the edge of the flooring, and a fire extinguisher by the door."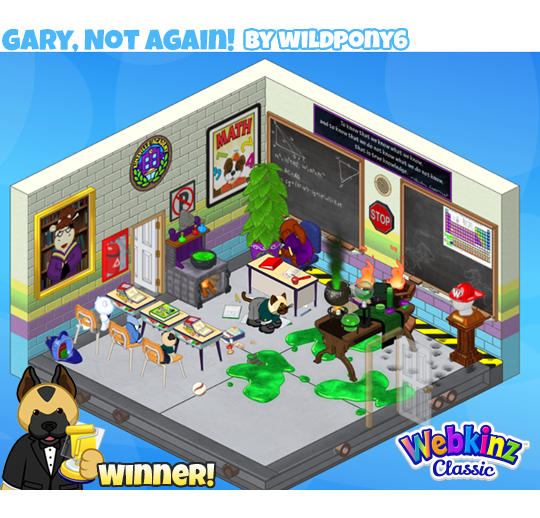 Wildpony6, please check your inbox for an email that will explain how to get your trophy.