Congratulations forestsprite, I picked your room, and you have won a Room Design Trophy!
I'm amazed at forestsprite's imagination! Over the past few years, I have never seen a room quite like this one. I'm pretty sure that forestsprite is a fan of the Adventure Park, because the Rainbow Machines are grand prizes, but work perfectly as shrink rays! The Giant Mug is from the Adventure Park as well, but the rest of the items can be collected from various areas of Webkinz Classic, without having to spend points. Each experiment is quite clever, and the scientists running them are clearly hard at work! I can't pick a favorite experiment, but the Wacky and Zangoz ones are fitting, since the Wacky Zingoz Celebration is in full swing on Webkinz Classic. Great job forestsprite! I love you room design!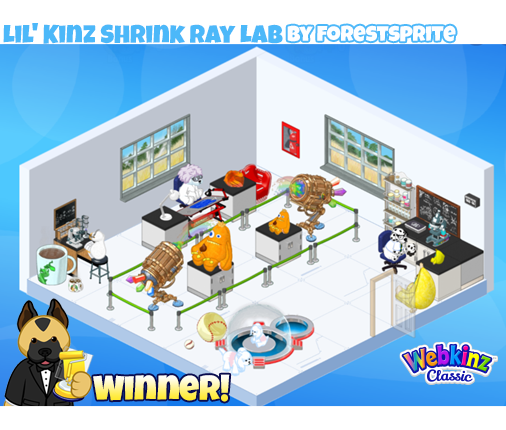 forestsprite, please check your inbox for an email that will explain how to get your trophy.