Congratulations BoulderPrairieHome! Mandy loved your room and you have won a Room Design Trophy!
Here's what she had to say about your room:
"I'm always finding inspiration in our players' fantastic designs, and I am definitely going to start saving my KinzCash so I can borrow this amazing idea from BoulderPrairieHome!
The choice of wallpapers, combined with the Big City Windows make perfect habitats for the pets in this Webkinz family. BoulderPrairieHome has used lots of greenery to give each habitat a natural feel, and there are plenty of items in each habitat for the pets to interact with.
Of course, as well as providing their pets with a natural and stimulating environment, BoulderPrairieHome has made sure that visitors to this zoo have a great experience too! There is a cute little gift shop at the entrance to this zoo, as well a beautifully landscaped picnic area where visitors can enjoy the view as they share a meal. They can even take a hot air balloon ride to get a full view of this amazing park!
Fantastic job, BoulderPrairieHome!"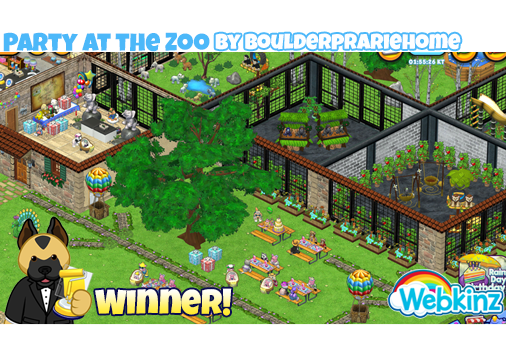 BoulderPrairieHome, please check your inbox for an email that will explain how to get your trophy!