We gave you a sneak peek at this pet in an earlier Webkinz Newz story, and now we'd like to present to you our newest Webkinz plush pet, the Basset Hound!
Check out this unboxing video, revealing the Basset Hound in action!
If you're sniffing around for a new friend, then a bold Basset Hound is the perfect choice! Loyal and loving, this delightful dog will adore keeping you company as they relax on their Dog Day Divan! When they're searching for a snack, scrounge them up something smelly, like their favorite: some Pungent Paté!
Here's a look at the Basset Hound plush, along with all of the items you'll get when adopting one: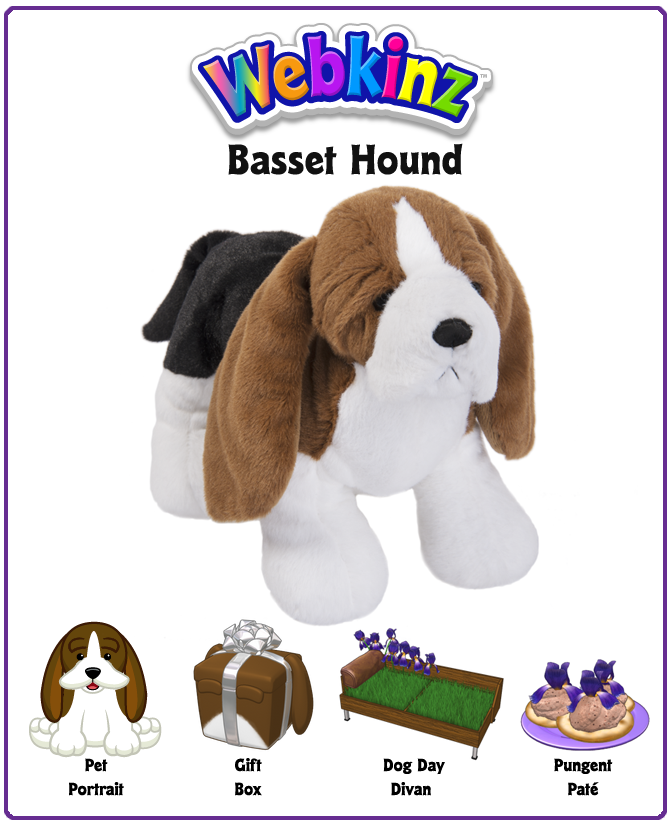 Want a plush Basset Hound all your own? This and other Webkinz plush pets are now available for order directly from the Ganz eStore!

NAME ME CONTEST
What would you name this huggable hound?
Enter our Contest here! Suggestions in the comments will not be entered into the contest.
Note: Contest closes at 11:59 PM EST on Sunday, August 6th, 2017.