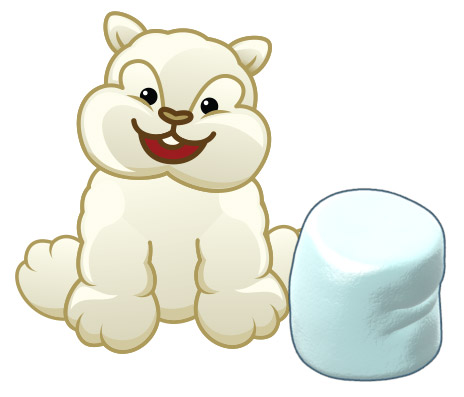 Thank you for all of your entries in our Marshmallow Chipmunk Giveaway! We are excited to announce the 20 randomly-selected winners, who will each receive a code for a virtual Webkinz Marshmallow Chipmunk and a Marshmallow Trampoline:
WKIDS
"Winkie for a male name"
bsnd500
"Hello. The name I choose is: Marsha"
snuglilbug
"I would name him Cedric"
maggespet08
"his name Fuffy"
alaskafish
"I would name her Millie"
35Milky
"Marshmallow!"
FuzzyPickles
"I would name this adorable Chipmunk Toasty"
stardancing4
"fluffy"
luckyme55
"She is adorable! Her name is Fluffy!"
polkapandaprincess
"Puff The Magic Chipmunk"
HeartFishie
"Smooshki"
pecancat
"I would name her Lily!!"
Prettypikachu
"I would name her 'Mallow'. Good luck, everyone!"
godgirl71115
"marsha"
Zeada100
"I would name him Berton"
10violin
"Cumulus"
Queen
"I would name him Stiles!"
moonkey1115
"I would name him Cumulus"
amac95
"I would name him S'mores or Toasty because that's what I think of when I think of marshmallows!"
psingrey
"I would name her Casper."
Congratulations to all of the winners! Look for a message at the email address associated with your Ganzworld account by end of day today, August 1, 2017.
_____________________________________________________
Due to a technical issue we have to had to suspend the virtual Pet-a-Day Giveaway for the foreseeable future.
But we didn't want our players to miss out on a chance to win an adorable Marshmallow Chipmunk! That's why – between July 21 and 31 – we are running a special 'Name Me Contest' and giving away 20 Marshmallow Chipmunk codes! Plus each randomly selected winner will also receive a bonus item – the Marshmallow Trampoline!
Entering is simple. To be entered into a random draw for one of 20 Marshmallow Chipmunks plus a Marshmallow Trampoline, just let us know in the comments below what you would name this sweet pet.
One entry per person please (multiple entries will result in disqualification).
Winners will be announced at noon on August 1, 2017.
Good luck!