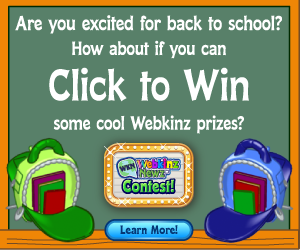 School is in session, and it's time to get some new gear!
Look for this special ad between September 6 and September 13 to win GanzWorld exclusive prizes! When you find it, click on it, fill in the fields correctly and a GanzWorld exclusive prize will be added to your Webkinz World account. Limit of one prize per Webkinz World account per day. Each day lasts from 12:00am EST until 11:59pm EST.

On Webkinz Newz, you'll be able to win one of the following prizes.
Want more prizes? Have your parents check the Parent Club!