Submitted by: mac with smila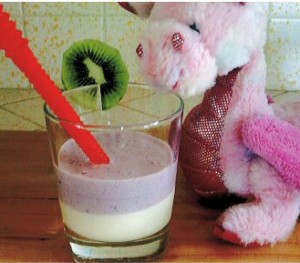 What you need:
One cup of milk
Half a cup of frozen or fresh berries
8 tablespoons of Vanilla yogurt
Blender (with adult supervision)
Straw
Kiwi (optional)
2 glasses for serving
What you do:
1.     Put berries, milk and 4 tablespoons of yogurt into a blender.
2.     Blend until smooth.
3.     Scoop 2 tablespoons of Vanilla yogurt into the bottom of each glass.
4.     Pour blended items equally on top of the yogurt in glasses.
5.     Have an adult cut a slice of kiwi and place on the rim of the glass.
6.     Add a straw and enjoy!
Do you have a great idea for a craft, recipe or party game? We'd love to hear them!