Hey Campers! Check out this awesome campsite that I created for the girls' camp out.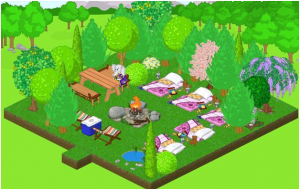 When the camp staff asked me to set up a campsite, the first thing I did was go hiking through the woods in search of the ultimate campsite. I was really lucky to find this lovely clearing in the woods with a small pond off to one side. How quaint is that? Elwin helped me haul in some rocks to create this blazing campfire
in the middle of the space. We wanted the girls to have some place to eat their breakfast, so I added a picnic table and benches off to one side as well as a handy cooler for transporting the food to and from the site. A couple of striped beach loungers make a comfortable place for the Roberta to perch when she creeps out the other campers with her gruesome ghost tales! And at bedtime the girls will all be curled up as snug as bugs in rugs in their soft, cozy sleeping bags.
I might even have to drag my own sleeping bag out here to catch one of Roberta's bloodcurdling tales!