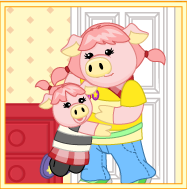 Every single year, I always feel the same way right before school starts: nervous. Last year, my sister Millie started kindergarten and she finally understood what I meant when I said I got butterflies in my stomach.  Millie actually cried the entire way to the Kinzville Academy, and continued to cry as I left her with her teacher.
Me? I was OK as soon as I saw my friends. I only felt nervous when I walked into my classroom – you just never know what kind of teacher you're going to have. I was SO lucky to have Miss Daisy again – she's so nice. I' don't know who my teacher will be this year, but I'm pretty sure Polly will be in my class (I hope so, anyway). I'm just going to remember to stay positive and focus on having a great year.
And as for Millie? She stopped crying by the time I picked her up after school that first day. And actually, she loved school SO much she almost cried when I said it was time to go home!
Good luck at school, my friends! I hope you have a wonderful first day.