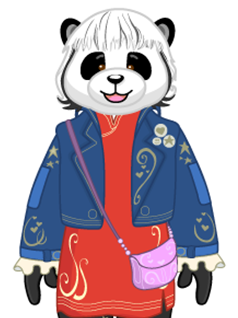 By Amanda Panda
It's getting hot out there, which has got me thinking… POOL PARTY!!! As long as my mom and dad agree to supervise (they are both excellent swimmers and know CPR) I think a pool party might be the perfect choice for my summer get together.
One great thing about a pool party is that the activity is built right in. I'd get lots of inflatable items, like beach balls and rafts, and I'd better have plenty of extra sunscreen on hand.
Marco Polo is a must, but there are other fun games we play, like pool volley ball and Sharks and Minnows.
We'd toss some hot dogs on the bbq, and fresh fruit and popsicles would offer a refreshing respite from the heat. And what pool party would be complete without bowls full of Goldfish crackers? It would be awesome to serve the food in plastic beach pails, and pick up dollar store Frisbees instead of paper plates. That way everyone could take their plate home at the end of the party and it cuts down on garbage.
I think I might take the plunge. A pool party would make a real splash with my friends, don't you think?