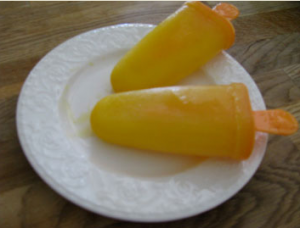 What you need:
-          Juice or lemonade
-          Ice cube trays
-          Toothpicks
OR
-          Ice pop moulds
What you do:
1.       Pour the juice into the ice pop moulds or ice cube tray.
2.        If using ice cube trays, stretch plastic wrap tightly over the top of the tray and poke the toothpicks through the plastic wrap.
3.       If using ice pop moulds, insert the sticks into the moulds.
4.       Freeze for at least two hours or overnight.
5.       Take a break from your pool party to chill out with these sweetly refreshing ice pops!