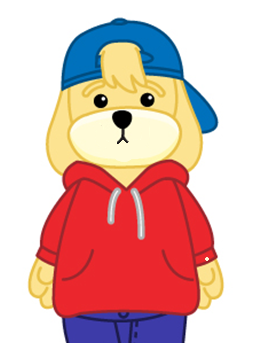 Oh wow. It's me, Sparky, and can you say 'awkward'? Today Purr-Cilla came up to me and said that her invitation to my party must have got lost because she couldn't find it anywhere. What was I supposed to say to that? I couldn't invite Purr-Cilla. She really doesn't get along with Salley and she and Nibbles had some weird thing over the summer about Nibbles' pool. And even though it was all Nibbles' fault that I got in trouble with Ms. Stripes the other day, she's still my friend.
I had to think fast so I told Purr-Cilla that I wanted to invite her but there just wasn't space at the party and I said I was really sorry.
Yikes, that was not a good plan because Purr-Cilla said that she heard that I was planning to have the party at my Uncle Arte's Curio Shop and that there was plenty of room in there. I didn't really know how to answer that so I just stood there feeling stupid. Then Purr-Cilla FREAKED! She said she didn't even want to come to my party and that she only mentioned it because she felt sorry for me because I was going to have such a lame party. Then she stomped off. And I was actually kind of relieved then because it was over.