Amanda Panda made this heavenly dessert to celebrate her first flight!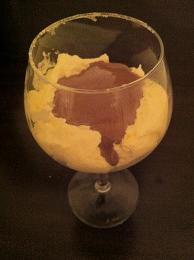 What you need:
-          2 cups thawed whipped topping
-          2 cups cold milk
-          1 pkg. (3.9 oz.) Chocolate Instant Pudding
What you do:
Spoon whipped topping into six bowls. With the back of a spoon, spread the topping along the bottom and sides of each bowl, forming a hollow middle.
Beat milk and pudding mix for 2 minutes. Spoon into centre of whipped topping.
Refrigerate until ready to serve.