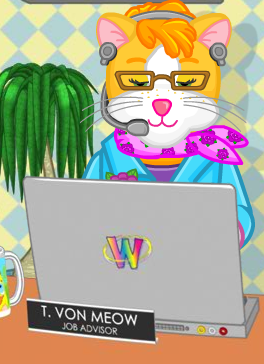 Tabby Von Meow here. Readers, things have been crazy busy in Webkinz World lately and there is a huge demand for workers right now. If you're looking to make some extra KinzCash I hope you'll apply for one of the many positions we have available right now.
If you are new to the employment field and are looking to gain some experience, we have plenty of entry-level positions open, such as:
-          Fence Painting
-          Newz Delivery
-          Shoe Store Clerk
-          Hamburger Cook
-          Dr. Quack's Assistant
We're also looking for workers with a little more experience to work in jobs like:
-          Baby Sitter
-          Grocery Clerk
-          Gem Mining
-          Piano Player
-          Ms. Birdy's Assistant
-          Flooring Assistant
And if you're looking for a real challenge and you have the experience I hope you'll apply for the posts of:
-          Kinzville Mover
-          Kinzpost Sorter
Whatever your level of experience, these are all fun and challenging jobs that are available in shifts. Every eight hours a new position comes up and we encourage you to try as many jobs as possible to expand your resume. Just check the job clock in my office to see when your next shift is due to come up.
There is lots of KinzCash to be made by conscientious workers so I hope to see you all in my office applying often.
Good luck!