Submitted by: Cas with Rayno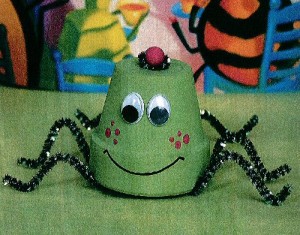 What you need:
Clay pot
Green paint
Fuchsia paint
Black marker
Wood bead
Green metallic pipe-cleaners
Wiggly eyes
Glue
What you do:
Turn pot upside down and paint the clay pot green including the bottom, which will be the top part.
Paint the wood bead fuchsia and let dry completely.
Glue wiggly eyes to pot.
Using black marker draw mouth on pot rim.
Using the end of the paint brush handles, dot four dots on each side of the face with fuchsia paint.
Cut one metallic pipe-cleaner in half, and wrap around the painted wood bead. Glue to top of the painted clay pot.
Bend in half and glued in place, 6 Green metallic pipe-cleaners to bottom of clay pot to make the legs of the bug.
Do you have a great idea for a craft, recipe or party game? We'd love to hear them!