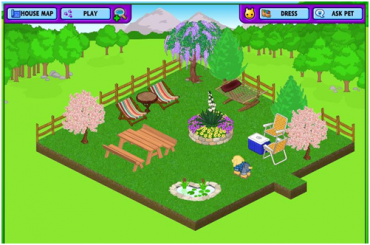 Amanda Panda here, peeps! Guess what? I'm throwing a party! This is so exciting – I'm going to invite all my friends!
The only thing is – I don't know what kind of party I should throw. I'm trying to figure it out. My mom suggested that, at this time of year, a picnic might be nice. Hmmm… if I were to have a picnic, it would obviously have to be the most awesome picnic ever.
The first thing I would need, to throw the perfect picnic, would be the perfect locale. I know just the spot in Kinzville park – there are trees for shade and a picnic table right next to an adorable pond where we could dip our toes. I'd want all my friends to be able to relax under the sun so I'll bring along a few extra folding seats and a blanket for lounging. We'd need plenty of sunscreen too.
Some outdoor games would be a great way to keep us occupied – maybe a soccer ball for us to kick around. I can't forget my portable stereo – after all, what is a party without tunes?
We'd need a cooler full of cold drinks to make sure everyone stays well hydrated, and a huge picnic basket absolutely brimming with simple, healthy finger foods like Banana & Hazelnut Chocolate Rolls, Ants on a Log, Veggies & Dip, and a cool Fruit Salad.
A picnic, huh? Not a bad idea. Something to think about. What do YOU think makes a picnic perfect?