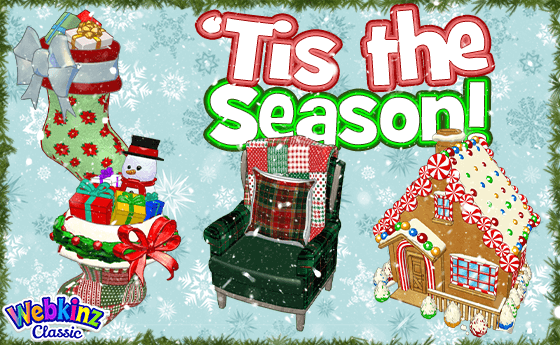 THE 2021 HOLIDAY GIFT STOCKINGS HAVE ARRIVED!
No holiday is complete without opening a 2021 Holiday Gift Stocking to find fun items inside!
2021 Holiday Gift Stockings award random items and some jolly holiday prizes too ranging in size, from small to large, and functionality. Gift Stockings may also contain new items not previously released! You won't want to wait for Christmas morning to open yours!
Drag and drop your 2021 Holiday Gift Stocking from your Dock into your Pet's room. Listen to jingling bells and watch as the stocking shakes and magically awards mystery items to your dock! You also get a tradeable Stocking you can hang in your Pet's room.

Here's a preview of some of the new items you may find in the 2021 Pretty Poinsettia Gift Stocking:
Striped Elf Planter
(RARE)

SantaKinz Wing Chair
(RARE)

Plush Reindeer Rocker
(Uncommon)

Spearmint Rug
(Uncommon)

Elf Stocking Chair
(Uncommon)

Pure Elegance
Wallpaper

Pure Elegance
Chair

Elf Planter

Pure Elegance
Sofa

Patchwork Holiday
Rug

Icy Holiday Trees

Patchwork Holiday
Armchair

SantaKinz Planter

SantaKinz
Stocking Chair

Here's a preview of some of the new items you may find in the 2021 Patchwork Holiday Gift Stocking:
Gingerbread Holiday
Home (RARE)

Holiday Garden Cottage (RARE)

Poinsettia Cottage (Uncommon)

Festive Brownstone (Uncommon)

Festive Victorian
Townhouse (Uncommon)

Gingerbread Bear
Trampoline

Ornament Carriage

Patchwork Holiday
Fireplace

Patchwork Holiday
Wardrobe

Icy Ornament
Hot Air Balloon

Pure Elegance
Blanket Box

Holiday Home

Festive
Home

Red Holiday
Bookcase
Visit Ganz eStore for more details on the 2021 Holiday Gift Stockings.