August's theme is Cute Carousel
A delicious decorating experience!
Inside the Cute Carousel ?? Box you may find one of these items:
Your pet is sure to have many amusing dreams when napping atop the beautiful round Cute Carousel Bed! The cute canopy will keep them comfortably nestled inside!
Perch your pet between the magical wings of a soaring Pegasus with the beautiful Cute Carousel Bench seat! You'll want to round up a few for your Cute Carousel themed room!
Store away your pet's favorite fair outfits inside the Cute Carousel Dresser! It's a great way to accessorize both your room and your pet!
Your pet will have a rocking good time when they hop onto the back of the precious Cute Carousel Pegasus Rocker! It's such a fun way to pass the time away!
The whimsical Cute Carousel Window will always give your pet a great view! They'll especially admire the awesome awning!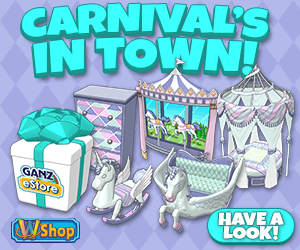 You may find the Cute Carousel ?? Box and other August Specials at eStore starting August 1, 2017!