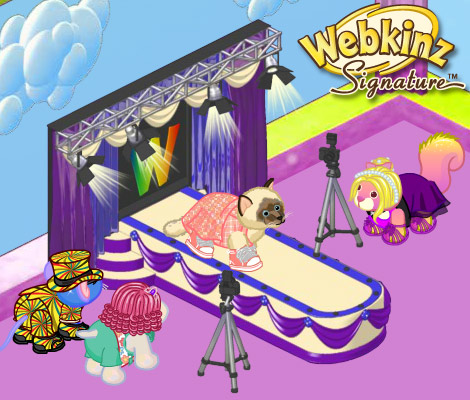 Ganz is proud to showcase the Webkinz Signature and Endangered Species Edition Signature Pet collections.

The Signature Ragdoll Cat just loves to show off their fabulous fashion sense! It just so happens they have the perfect platform with a Designer Catwalk where they can strut their stuff. And when it's meal time they are quite particular about only being served their favorite food, Seared Scallops!
The Signature Ragdoll Cat comes with the following items:
• Special Item: Designer Catwalk
• Special Food: Seared Scallops
• A Wish Token
• Plus one Exclusive item from the Signature Room Theme
Every Signature series pet includes an amazing pet-specific special item and food to dazzle players, a Wish Token for extra fun on the site, an exclusive piece of the Signature Room Theme that is only available from adopting a Signature Pet, plus all the regular adoption rewards!
You may find this virtual, online Signature Pet and more at eStore!