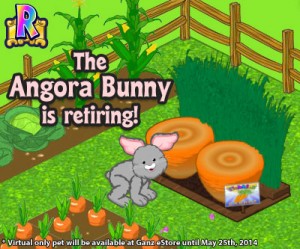 The Angora Bunny is retiring from the Webkinz catalog this Sunday, May 25th, 2014!
Angora Bunny owners can celebrate in Webkinz World!
If you don't have a Webkinz Angora Bunny, you have a chance to find an online-only version of this pet at Ganz eStore until Sunday May 25th, 2014!
The Angora Bunny may be one of the cutest pets in Webkinz World! This hopping humorist loves to tell jokes and laugh the day away. Members who adopt an Angora Bunny will also receive a Cozy Carrot Couch and a jar of Crunchy Carrot Chutney!
You may find this online-only, virtual, pet and many more at eStore!