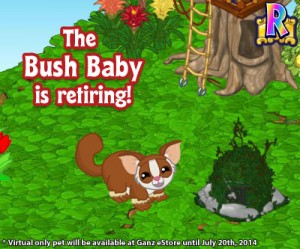 The Bushbaby is retiring from the Webkinz catalog this Sunday, July 20th, 2014!
Bushbaby owners can celebrate in Webkinz World!
If you don't have a Webkinz Bushbaby, you have a chance to find an online-only version of this pet at Ganz eStore until Sunday July 20th, 2014!
The bouncy Bushbaby is one of the cutest pets in all of Webkinz World! This adorable animal likes to skip and play hopscotch at recess. The Bushbaby carefully stores its belongings in its Super Secret Safe (including its delicious Butter Scotch Beetles)!
You may find this online-only, virtual, pet and many more at eStore!