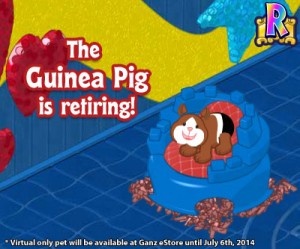 The Guinea Pig is retiring from the Webkinz catalog this Sunday, July 6th, 2014!
Guinea Pig owners can celebrate in Webkinz World!
If you don't have a Webkinz Guinea Pig, you have a chance to find an online-only version of this pet at Ganz eStore until Sunday July 6th 2014!
The pitter patter of cute little feet is never far away with this adorable rodent! The Guinea Pig is one cuddly little critter that likes to keep busy all day long! You'll love spending time with this fun little furball!
You may find this online-only, virtual, pet and many more at eStore!