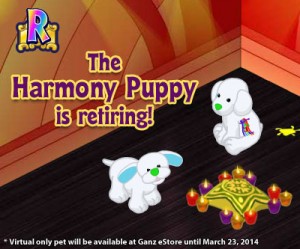 The Harmony Puppy is retiring from the Webkinz catalog this Sunday, March 23rd, 2014!
Harmony Puppy owners can celebrate in Webkinz World!
If you don't have a Webkinz Harmony Puppy, you have a chance to find an online-only version of this pet at Ganz eStore until Sunday March 23rd, 2014!
The Harmony Puppy is all about compromise and calm. Webkinz Members who adopt this pet will receive a Carefree Cushion to help their puppy meditate and a Tranquil Tenderloin to feed to their new friend!
You may find this online-only, virtual, pet and many more at eStore!