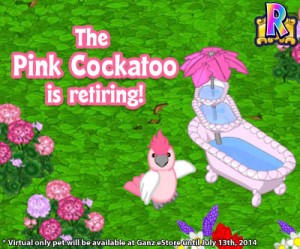 The Pink Cockatoo is retiring from the Webkinz catalog this Sunday, July 13th, 2014!
Pink Cockatoo owners can celebrate in Webkinz World!
If you don't have a Webkinz Pink Cockatoo, you have a chance to find an online-only version of this pet at Ganz eStore until Sunday July 13th, 2014!
Smart and chatty, the Pink Cockatoo is one fabulous finely-feathered friend to add to your collection! Certain to set hearts aflutter with their prim and proper pink plumage, the Pink Cockatoo enjoys sipping on a Peckish Pink Icy while relaxing their feathers in the luxurious Birdbath Spa.
You may find this online-only, virtual, pet and many more at eStore!