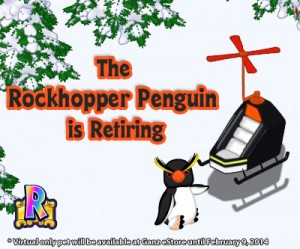 The Rockhopper Penguin is retiring from the Webkinz catalog this Sunday, February 9th, 2014!
Rockhopper Penguin owners can celebrate in Webkinz World!
If you don't have a Webkinz Rockhopper Penguin, you have a chance to find an online-only version of this pet at Ganz eStore until Sunday February 9th, 2013!
Get ready to rock until you drop with the Rockhopper Penguin! This polar penguin uses its Rockhopper Chopper to fly around Webkinz World and visit friends. A master in the kitchen, the Rockhopper makes an absolutely superb Octopot Pie!
You may find this online-only, virtual, pet and many more at eStore!