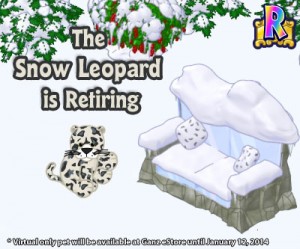 The Snow Leopard is retiring from the Webkinz catalog this Sunday, January 12th, 2014!
Snow Leopard owners can celebrate in Webkinz World!
If you don't have a Webkinz Snow Leopard, you have a chance to find an online-only version of this pet at Ganz eStore until Sunday January 12th, 2014!
The Snow Leopard is quite a sight! This spotted pet is a treasured wonder in Webkinz World because it is so famously friendly. The Snow Leopard can sometimes be difficult to find, but if you check the buffet table in the Snowed Inn Den, you will find this lovely pet feasting on the Frigid Filet Mignon.
You may find this online-only, virtual, pet and many more at eStore!