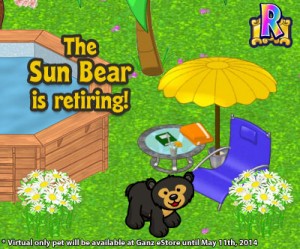 The Sun Bear is retiring from the Webkinz catalog this Sunday, May 11th, 2014!
Sun Bear owners can celebrate in Webkinz World!
If you don't have a Webkinz Sun Bear, you have a chance to find an online-only version of this pet at Ganz eStore until Sunday May 11th, 2014!
This beaming bear really likes to get outside and soak up the warm rays! The Sun Bear is commonly found relaxing in its comfy Poolside Sunning Chair. If the Sun Bear invites you over for a pool party don't forget to bring plenty of Runny Honey Sundaes!
You may find this online-only, virtual, pet and many more at eStore!