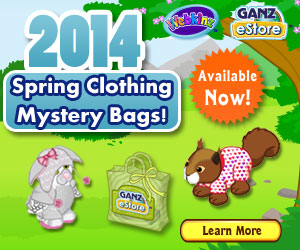 HERE'S A PEEK AT WHAT YOU MAY FIND INSIDE!
Each Mystery Clothing Bag contains a pair of cool eStore clothes!
Drag and drop your Mystery Clothing Bag from your Dock into your Pet's room. Watch as the gift shakes and magically awards mystery clothing items to your dock! Each Mystery Clothing Bag awards two random clothing pieces.



You never quite know what you're gonna get!
You may find a piece of the Arabian Prince or Princess costumes or maybe the Lily Pad Dress. There are many clothing pieces to be found!
OR… If you're lucky you may find a piece of the super exclusive Grey Bunny, Comfy Snooze, Webkinz Chic, Webkinz Cute or Super Star outfits!
| | | |
| --- | --- | --- |
| | | |
| Grey Bunny Outfit | Comfy Snooze Outfit | Webkinz Chic Outfit |
| | | |
| | | |
| Webkinz Cute Outfit | Super Star Outfit | Fairy Toadstool Hat |
Visit Ganz eStore for more details on Spring Mystery Clothing Bags.