Hello Kinzville! Today marks another update in Webkinz World and I'm here to talk about what's new!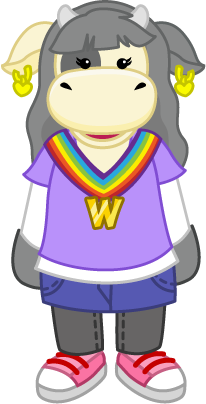 The election to vote for the new Mayor of Kinzville is just around the corner! Visit the Kinzville Park until November 29th to get a special daily campaign gift from the candidates. You can read their campaign platforms here on Webkinz Newz. Most importantly: visit Webkinz Newz on November 30th to VOTE!
U.S. Thanksgiving is tomorrow! Don't forget to log in to your Webkinz account on the web (or using the Webkinz mobile app) to get your 2016 Thanksgiving Gift Basket! You'll also get a spin on the Super Wheel tomorrow when you visit Today's Activities!
December is only a week away and so are our Christmas events in Webkinz World! You'll be able to find Santakinz in the Clubhouse starting December 1st. Have your pet hop up on his lap and tell him which gift you'd like to receive on Christmas Day! Not only will you get a free candy cane, you'll also get a KinzPost with a cute photo of your pet on Santakinz's knee!
While you are in the Santakinz room, don't forget to say hello to Ms. Birdy, starting December 14th! Each day she'll have a new prize as she counts down to Christmas!
A new Candy Cane Collection event is returning this December! Visit the Map of Kinzville from December 1st – 31st and click on the collection icon to start asking friends for candy canes! You'll earn 5 new gingerbread-themed furniture and decoration prizes!
Voted on by the fans, our new Countryside Christmas room theme will be arriving in the WShop on December 1st! Pick up this versatile indoor/outdoor holiday theme throughout the month, before it's gone on January 1st!
Also making a return exclusively to the Mobile Zone on the Webkinz mobile app is our previous holiday room theme, the Home for the Holidays theme! You'll find this happy holiday theme in the Mobile Zone from December 1st – 31st!
The holidays aren't only about Christmas! That's why you'll find 2 of our previously-released Menorahs in the WShop from December 1st until January 1st, along with a NEW elegant Glass Menorah!
Also returning to the WShop in December is the Gingerbread Cabin Kit, along with our Christmas Party Packs! Pick them up for a limited time!
There's something NEW inside the Deluxe Gift Box starting this December! In addition to this month's exclusive piece of clothing, the Perfectly Pretty Gown, Deluxe Members will also find the It's Fun to be Young Gift Box! Inside this box, members can choose from one of a dozen brand-new room theme items!
There's also a new challenge for Deluxe Members this December! When you complete all the tasks, you'll win a Cozy Sleigh Sofa!
Everyone will be able to join in on the Cash Cow 2 Trophy Challenge running for a limited time November 25th – 27th! Once you complete the challenge you'll win a NEW Cash Cow 2 Trophy!
Speaking of trophies, we've added some hardware to many of our latest arcade games! Now Dogbeard's Gold, Hatch the Dragon, Jumbleberry Blast, and Ms. Cowoline's Roll Call each have trophies to be won! And after our next mobile app update, you'll be able to win these trophies, along with others that were previously only available on web!
We've added 3 new prizes to the Webkinz prize pool! Now when you do things like your Daily Delivery or the Wacky Logout Carnival, there's a chance you might win one of these cool new prizes! To make room, we've retired the Colorful Cactus.
The Fall Shopping SPREE continues until November 27th! Log in to Webkinz World (or the Webkinz mobile app) each day to get a piece of clothing from our 2016 Fall Clothing Line!
Keep spinning those wheels! We've once again updated the prizes on the Wheel of Wow for web and mobile, along with the Wheel of Deluxe!
We've also fixed more features and items! To see all of the items we've fixed each week, you can check out our list by clicking here.
Hope you have a wonderful time in Webkinz World!


Mayor of Kinzville