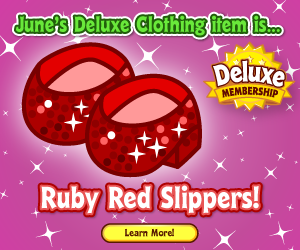 June is going to blow you away!
Because in June Deluxe Members will be receiving these gorgeous Ruby Red Slippers along with a Wish Token and another bonus prize! But that's not the only great thing about going Deluxe!
Deluxe Members enjoy extra jobs in the Employment office as well as extra classes at the Kinzville Academy, access to extra daily activities, as well as the Deluxe Prize Machine and Wheel of Deluxe, extra items in the Curio Shop, eStore points, and more!
For as little as $3.75 a month, you can be enjoying the perks of Deluxe Membership too.
So let your pet slip on these wicked Ruby Red Slippers and make June sparkle!