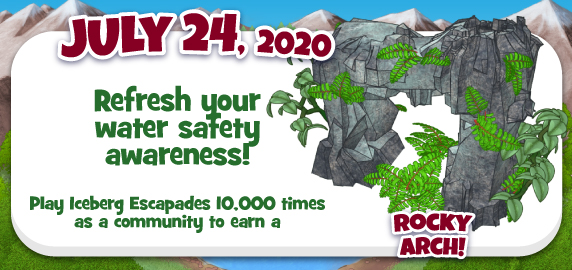 You did it! Here is your code for a
Campkinz Lantern Tree
 W24L-Q8CQ-STPQ-PP2A*
Above is your next task in the Adventure Camp Community Challenge! Remember – a community challenge is one where the whole Webkinz Community works together to reach a goal. You don't have to play Iceberg Escapades all by yourself! We track all the plays and count them toward the total.
Come back here to Webkinz Newz tomorrow morning AFTER 9:30am to see if you reached the goal. If you did, you'll get a code for your prize!
Missed previous day's code? Find it here:
Rocky Geyser: W244-GTKA-HBLF-NB5W
Oak Tree Toy Box W24R-MM35-FTXJ-JGVY
Camping BBQ W24E-9G7E-DZW4-3SXS
* Enter this code in the Code Shop when you log into Webkinz. It can be accessed under the Things To Do menu. Code awards one item per account and expires at midnight EST on November 30, 2020.
Update: the above code is not actually for the Campkinz BBQ as pictured in the graphic but for the Camping BBQ shown below. Love the green Campkinz BBQ from the graphic? You can find it in the WShop! We apologize for any inconvenience.