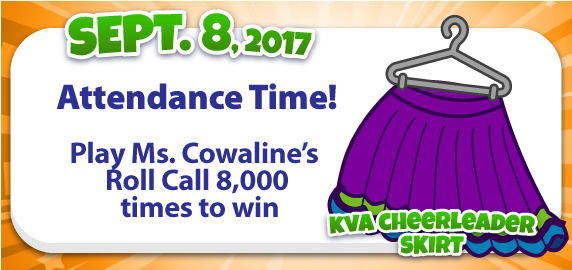 You did it! You fed your pets 6,000 apples to win a KVA Cheerleader Tank Top!
Here is your community code:
W24T-8QTS-S9XY-GG5S
If you reach today's goal, you can claim your prize on Webkinz Newz tomorrow!
Here's how it works:
Visit Webkinz Newz to get your Community Challenge for the day
Work together with the Webkinz Community to reach your goal.
Check Webkinz Newz the next day after 9:30am to see if you reached the goal.
If you reached the goal you can collect a Community Code for your prize! But the Community Code is only up for one day so be sure to enter it in the Code Shop on webkinz.com!
Get the new Community Challenge and start over again!
Good luck!
Missed the previous codes? Here they are:
Textbook Tower: W24J-46EE-MNJQ-AM82
Kinzville Academy Plaque: W24L-JZCX-3GCS-XCQL 
These codes award one item per webkinz.com account and expires at midnight on October 31.