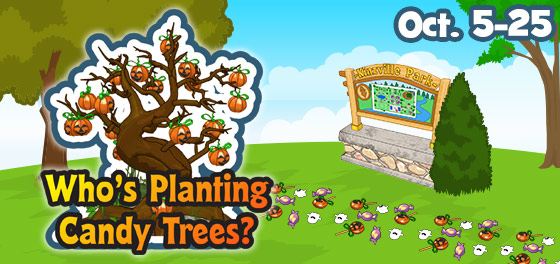 Who's planting Candy Trees?
Strange… since the beginning of October, some Candy Trees have been mysteriously appearing in Kinzville Park. First there was a Grape Taffy Tree and now there is a Saltwater Tree. Ella thought it was the mischievous Munchkins probably trying to make up for all the trouble they caused the Noble Elk last month. But the Munchkins insist it wasn't them and now they're trying to figure out who could be planting the trees.
Who's planting Candy Trees?
To help the Munchkins get to the bottom of it, complete the 'Who's Planting Candy Trees?' Challenge in Webkinz World between October 5th and 25th.
Who's planting Candy Trees?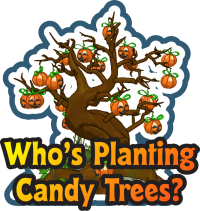 Who's planting Candy Trees?
You'll have to collect some of the candies from the Park to feed to your pet, place 12 Candy Tiles in your pet's room, and earn 250 KinzCash at Home Before Dark! If you complete the challenge, you'll win a Creature Candy Bag that your pet can wear, a Candy Tile, and a Creepy Candy Apple! Maybe you can help solve the mystery!