Hey guys! For the past few years, we have allowed the Webkinz Newz community to pick any new room themes that we release in the W-Shop.
Our seasonal room themes are some of the most popular ones we have on Webkinz. Last year, the newz community picked the Haunted Castle as the latest Halloween room theme to be released in the W-Shop. As you may know already, the Haunted Castle theme will be back again October 1st with three new items. This year, we'll be picking a new Christmas room theme! Mandy and I sneak peeked the three themes you get to choose from on Podkinz 106, but in case you missed them, I'll be showing them here today.
Look over each concept drawing carefully, because once the winning theme has been decided, the concept drawing will be used as inspiration for the rest of the items that will be included in the theme:
The first theme you have to choose from is the Christmas Cabin room theme. This theme would consist of warm, welcoming wood furniture that you would find in a log cabin around Christmas time. The color scheme would be mostly red, green and brown. The fabric featured on the furniture and pillows would be classic patterns that are themed for Christmas.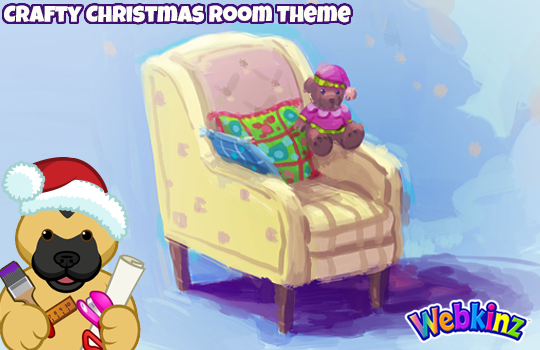 Your second choice is the Crafty Christmas room theme. This theme would feature ordinary furniture that has been decorated with homemade Christmas crafts. Things like a craft table, banners and a homemade wreath would also be included in this theme.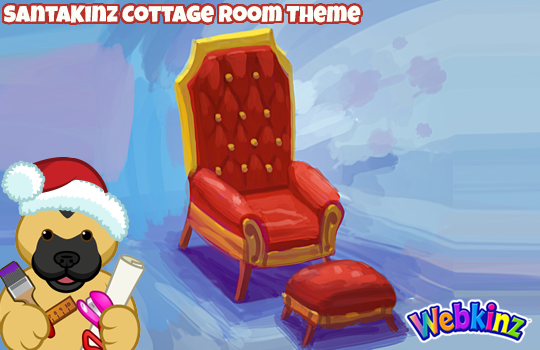 The SantaKinz Cottage is your third and final choice for this year's Christmas room theme. This theme would include things that would be found in SantaKinz's house/workshop, similar to the very first Webkinz Christmas theme. Items would include a fireplace, desk, sack of KinzPost, rocking chair, pantry with cookie jars and a window with falling snow.
You can vote for your favorite room theme from October 1st – 3rd, right here on Webkinz Newz. The winning theme will be revealed on Friday, October 5th and it will be released in the W-Shop, for KinzCash, on December 1st.
Once the winning theme has been determined, make sure you check Webkinz Newz often, because we'll be posting concept drawings of each item as they are being created.
What theme would you like to win? Let us know by leaving your comments in the section below…